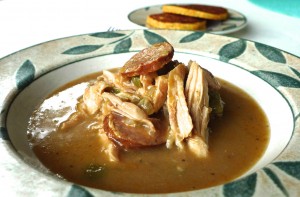 This week, my hubby and I went out dancing on a beautiful summer night in downtown Seattle as a part of the Dancing Til Dusk series. For 15 nights, different parks around the city host live music and dancing. There is everything from waltz to swing to tango. The night we went happened to have a Cajun-style band, so I made chicken gumbo to get us into the mood before we went out!
I started with a recipe from Southern Living magazine, which was quick and easy compared to many other gumbo recipes. To make it a little healthier, I used half of the amount of oil that the recipe called for, and I only used one link of andouille sausage for the whole stew. If you can, use homemade chicken stock, since it is one of the stars of the dish.
Chicken Gumbo
Based on a recipe from Southern Living magazine
1/4 cup high heat oil, such as safflower
1/4 cup all-purpose flour
1 yellow onion, chopped
1 green bell pepper, chopped
2 stalks of celery, chopped
2 teaspoons blended Cajun seasoning
2 garlic cloves, minced
5 cups low-sodium chicken stock
1 link of andouille sausage, cut into thin slices
½ precooked rotisserie chicken, shredded
Heat the oil in a large skillet over medium-high heat. When it is hot and shimmering, whisk the flour slowly into the skillet. While constantly whisking, cook until the flour is the color of dark caramel. Watch very closely, so the mixture doesn't get too dark.
Reduce the heat to medium. Add the onion, bell pepper, celery, and Cajun seasoning. Cook until the vegetables are softened. Add the garlic, and cook until fragrant, about 30 seconds. Add the chicken stock and sausage. Increase the heat again to medium-high, and bring to a boil. Reduce heat to low, and simmer for about 20 minutes, stirring occasionally.
Stir the chicken into the pot, and continue cooking until warmed through.