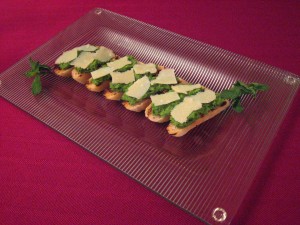 I brought home some delicious homemade bread from Sur La Table's artisan bread class, so we decided to make a spring crostini dish with one of the baguettes. I think there is something extraordinary about peas and fresh mint together. Top that slightly sweet combination with salty Parmesan, and it's a really special dish. Simple, fresh and delicious. A recipe from Bon Appétit magazine inspired me, but we made it our own. Just add as much or as little of each component until it tastes good to you. 🙂 This is really more of an idea than an actual recipe to follow.
Pea, Mint and Parmesan Crostini
Adapted from Bon Appétit magazine
Fresh baguette
1 ½ cups frozen peas
Handful of fresh mint
Salt and pepper
Drizzle of extra virgin olive oil
Blanch the peas in salty water for about a minute. Drain well. In a food processor, add blanched peas, mint, olive oil, salt and pepper to taste. Process until it is blended, but still has some texture. Scrape down the bowl to ensure it is all evenly mixed.
Slice the baguette into thin slices, and grill lightly on a grill pan.
Spread a dollop of the pea mixture onto the baguette slices, and then top with thinly sliced Parmesan cheese. Garnish with extra mint and some freshly ground pepper if you'd like.
These would be great appetizers for a spring cocktail party, or even for an Easter meal. They are so easy to make that they would also be perfect for a late night snack with a nice bottle of wine. Or in this case, they were a part of one of our little anniversary celebrations. Saturday marked the day that Rob and I met 14 years ago. We do something special every year on that date when we unknowingly met our future spouse. 🙂 These little crostini definitely felt like a treat fitting for a special celebration.
http://nooncafe.com/wp-content/uploads/2015/07/NoonCafe-Logo-with-full-shadow.21.png
0
0
Laura
http://nooncafe.com/wp-content/uploads/2015/07/NoonCafe-Logo-with-full-shadow.21.png
Laura
2012-03-26 20:44:04
2015-07-19 13:59:48
It's Spring ~ Pea, Mint and Parmesan Crostini