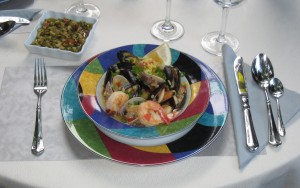 Rob and I celebrated our 10th wedding anniversary today with a romantic dinner at home. Cooking is always a fun way to spend time together, and there's nothing we like more than to create a nice meal and enjoy it outside on a warm summer night. To us, that's a perfect evening together…The perfect way to celebrate this milestone. The recipes I chose were adapted from the September 2000 issue of Bon Appetit magazine, which I thought was a fun and special way to choose a menu :). Both of the original recipes can be found at Epicurious.com. We had mussels, clams and shrimp with saffron risotto and green olive relish as well as caramelized pear cake for dessert. I followed the risotto recipe pretty closely, except I halved the garlic. It was a romantic anniversary after all! 😉 We also added more seafood than the recipe called for since it was a special occasion. I changed the cake recipe quite a bit, however. To lighten it up a little, I cut the sugar and the butter and I replaced some of the oil with applesauce. I have to say, we didn't miss it one bit! The presentation looked very fancy, as well, which was perfect for a special finale.
Mussels, Clams and Shrimp with Saffron Risotto and Green Olive Relish
1/2 cup chopped green olives
1/4 cup extra-virgin olive oil
1 tablespoon chopped fresh parsley
1 ½ teaspoons lemon zest
2 cups low sodium chicken stock
1/4 teaspoon saffron threads
2 tablespoons extra-virgin olive oil
1/4 cup chopped shallots
1 cup Arborio rice
2 garlic cloves, minced
1/2 cup dry white wine
1 cup bottled clam juice
20 mussels
15 manila clams
24 uncooked large peeled shrimp
3/4 cup chopped fresh tomatoes
1/4 cup sliced green onions
Lemon wedges
To make the relish, combine the first four ingredients in a small bowl – Olives, oil, parsley and lemon peel. (This can be made the day before and refrigerated).
Bring the stock and saffron to a simmer in a small saucepan. Remove from heat and cover. Heat the olive oil in a heavy large pot over medium heat. Add the shallots and sauté about 2 minutes until they are tender. Add the rice and the garlic and stir 1 minute. Add the white wine and stir until absorbed, about 2 minutes. Add 1/2 cup saffron stock and simmer until absorbed, stirring constantly. Add the remaining stock 1/2 cup at a time, allowing the stock to be absorbed before adding more, stirring frequently until the rice is cooked halfway, about 10 minutes. Add the clam juice, seafood and chopped tomatoes. Cover and simmer until the rice is tender, the mussels and clams open, the shrimp are cooked through and the liquid is absorbed, about 10 minutes. Discard any mussels and clams that did not open. Divide the seafood and saffron risotto equally among 4 bowls. Sprinkle with sliced green onions and serve with lemon wedges and the green olive relish on the side.
Caramelized Pear Cake
4 tablespoons unsalted butter
1/2 cup (packed) golden brown sugar
About 2 pounds Bosc pears, peeled, quartered and cored
1 1/3 cups all purpose flour
2/3 cup sugar
2 tablespoons minced crystallized ginger
1 1/2 teaspoons ground cinnamon
1 teaspoon baking soda
1/2 teaspoon ground ginger
1/2 teaspoon kosher salt
3 large eggs
1/4 cup canola oil
¼ cup applesauce
1 teaspoon vanilla extract
1 teaspoon grated orange zest
1 cup grated peeled Bosc pears
Preheat your oven to 350. Melt the butter in the microwave, and mix it with the brown sugar in the bottom of a 10 inch cake pan. Spread the mixture in an even layer. Arrange the quartered pears in a flower design on top of the sugar. (One tip is to cover the pears in a little lemon juice while you are peeling and quartering the bunch. That way the first ones won't turn brown while you work on the remaining ones. Then just give them a light rinse and dry before arranging them in the pan).
Whisk the flour, 2/3 cup sugar, crystallized ginger, cinnamon, baking soda, ground ginger and salt in medium bowl. Whisk the eggs, oil, applesauce, vanilla and orange peel in a large bowl. Then mix in the grated pears to the wet mixture. Finally, mix the dry ingredients into the wet mixture until just combined.
Carefully pour the batter over the pears in the cake pan. (It will be a pretty thick batter, but just coax it gently with a spatula to cover all of the pears). Bake until a toothpick inserted into the center comes out clean, about 40 minutes. Cool the cake in the pan for about 20 minutes. Then run a knife around the pan sides to loosen, place a serving plate over cake and invert it onto the plate. Serve warm. (It also refrigerates well if you would like to make it a day ahead. Just microwave the slices for about 20 or 30 seconds to warm through before serving).
We paired the meal with a bottle of Tin Barn Vineyards red wine that our parents gave us for our "tin" anniversary :). The winery was also founded 10 years ago. Perfect! (The Cabernet Sauvignon blend was very yummy…I'd recommend it if you like artfully crafted red Meritage blends).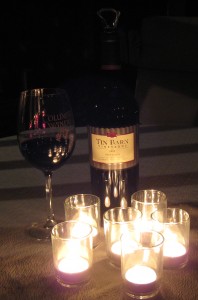 http://nooncafe.com/wp-content/uploads/2015/07/NoonCafe-Logo-with-full-shadow.21.png
0
0
Laura
http://nooncafe.com/wp-content/uploads/2015/07/NoonCafe-Logo-with-full-shadow.21.png
Laura
2010-09-06 17:01:38
2015-07-26 16:56:29
10th Wedding Anniversary ~ Mussels, Clams and Shrimp with Saffron Risotto and Green Olive Relish and Caramelized Pear Cake