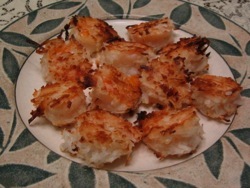 One of my favorite restaurants in town called Cactus used to have my very favorite coconut shrimp in the city. Actually, I would say they were my favorite coconut shrimp, period. I have tried them in quite a few places and nothing ever beat theirs, in my humble opinion. Their chef decided to change the menu recently, however, and they no longer serve them. Soo…That inspired me to try to figure out the recipe! I learned that baking them works really well, as opposed to frying them. This recipe is based on one I found in Cooking Light magazine (the original can be found at MyRecipes.com) with a few personal touches.
Baked Coconut Shrimp
30 large peeled and deveined shrimp with the tails still attached
1/3 cup cornstarch
Pinch of salt
3 egg whites
2 cups sweetened flaked coconut
Cooking spray
Aluminum foil
Preheat oven to 400°.
Coat a baking sheet with aluminum foil and cooking spray. Rinse and dry shrimp. Combine the cornstarch and salt in a little dish. Beat the egg whites in a separate bowl with a hand mixer until they are slightly frothy. Place the coconut in a third dish. Dredge each shrimp in the cornstarch mixture, the egg white and then the coconut. (Press gently to keep the flakes in place). Place the coated shrimp on the baking sheet, and spray the top of the shrimp lightly with cooking spray. Bake for about 20 minutes, depending on the size of your shrimp, turning once. (Watch them closely, so as not to over bake).
I also made a super easy salsa to go with them…Just a mix of crushed pineapple with jalapeno pepper jelly to taste.
A little side note is that I try to find farm raised or wild shrimp from the US or Canada instead of imported shrimp. I like this little seafood selector website (find a fish) since it's sometimes hard to remember which choices are the healthiest when I'm at the store.
http://nooncafe.com/wp-content/uploads/2015/07/NoonCafe-Logo-with-full-shadow.21.png
0
0
Laura
http://nooncafe.com/wp-content/uploads/2015/07/NoonCafe-Logo-with-full-shadow.21.png
Laura
2010-01-28 18:56:45
2015-07-26 18:12:48
Baked Coconut Shrimp