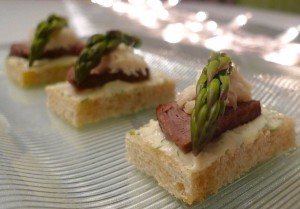 Today is Oscar Sunday! What would I like to nibble on while I watch the show? Steak Oscar, of course! 😉 I couldn't think of anything more perfect!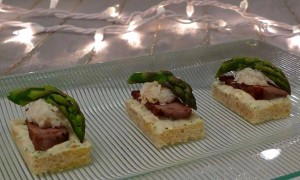 Steak Oscar is typically an entrée consisting of a beef tenderloin steak, crab, asparagus, and Béarnaise sauce. I made mine into bite-sized canapés that would be perfect to pass around an Oscar party. I topped a small rectangle of toasted bread with a Béarnaise-inspired sour cream sauce, small slices of beef tenderloin, a little bit of Dungeness crab, and an asparagus tip. Serve on a pretty platter, and it is ready for the red carpet! 😉
Steak Oscar Canapés
High heat cooking oil, such as safflower
1 small shallot, minced
Salt, to taste
Freshly ground black pepper, to taste
1/2 cup reduced fat sour cream
1 tablespoon Dijon mustard
1/2 tablespoon champagne vinegar or white wine vinegar
1 1/2 tablespoons fresh tarragon, minced
4 slices artisan bread, crusts removed (I used The Essential Baking Company's sliced Columbia)
Extra virgin olive oil, to taste
6 ounces beef tenderloin
1 bunch asparagus
2 ounces fresh lump Dungeness crab meat
To begin, make the Béarnaise sour cream sauce. Heat a small pan with a lid over medium heat. Add the high heat cooking oil and the shallot. Season with salt and pepper. Sweat the shallots with the lid on, stirring occasionally, until they are softened but not caramelized. Let cool.
In the meantime, mix together the sour cream, mustard, vinegar, and tarragon in a small bowl. When the shallots are cool, mix them into the sour cream mixture. Season to taste. Set aside.
Preheat oven to 350 F.
Cut the bread into small rectangles. Place the rectangles on a baking sheet lined with parchment paper. Drizzle the bread with a little olive oil and sprinkle with salt. Bake until warm and slightly crisp on the outside, about 5 minutes.
In the meantime, preheat a small skillet over high heat. Season steak on both sides with salt and pepper. Add high heat cooking oil to the hot pan, and when the oil is hot and shimmering, add the steak. Sear on both sides, until caramelized and cooked to your liking. Once cooked, set aside on a cutting board, tented with foil, and let rest for at least 5 minutes. Cut against the grain into thin slices.
In a medium skillet with a lid, add the asparagus and a splash of water. Season with salt and pepper. Steam with the lid on until the asparagus is tender crisp. Cut off the tips, and reserve the remaining asparagus as a side dish for another night.
To assemble:
Spread a small amount of the Béarnaise sour cream sauce on each piece of toasted bread. Top with a small slice of beef, a tiny mound of crab, and the tip of an asparagus spear.
Serve immediately.
http://nooncafe.com/wp-content/uploads/2015/07/NoonCafe-Logo-with-full-shadow.21.png
0
0
Laura
http://nooncafe.com/wp-content/uploads/2015/07/NoonCafe-Logo-with-full-shadow.21.png
Laura
2016-02-28 20:25:24
2016-03-01 13:18:37
The Oscars ~ Steak Oscar Canapés