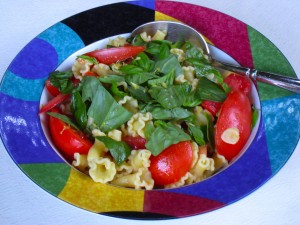 Every summer on this day, we have a special Dungeness crab dinner. It's one of the little anniversaries that we celebrate, and the choice of crab for dinner has turned into a tradition. To us, it's the perfect Northwest meal on a warm summer evening. (For instructions on how to cook the crab, visit my Fourth of July post.)
To go with our crab, I tried my take on the recipe that graces the cover of Martha Stewart Living magazine this month. I did make a few changes to make it a little healthier and to make it a little more economical. I reduced the amount of olive oil and pasta and I increased the amount of tomatoes and basil. I also used fresh red summer tomatoes instead of the heirloom variety as she did. I couldn't find the fancy pasta she used at my local Italian market, so I used campanelle. They look like cute little flowers. Any short pasta will work for this dish, however.
Marinated Tomato, Basil and Pasta Salad
(Serves about 4)
2 garlic cloves, thinly sliced
1/8 cup extra virgin olive oil
1 1/4 lbs ripe summer tomatoes cut into ½ inch wedges
½ cup torn fresh basil
1 ½ tablespoons rinsed capers
1 teaspoon grated lemon zest, plus more for the top
Pinch of red pepper flakes
Salt and pepper
4 oz dried short pasta (I used campanelle. Martha used croxetti.)
Heat the garlic and olive oil in a saucepan over low heat until the garlic is lightly golden brown. (About 10 minutes). Strain the garlic, and reserve both the garlic chips and the oil. Let cool.
Combine the tomatoes, ¼ cup basil, capers, lemon zest, red pepper flakes and salt to taste in a large bowl. Pour the cooled oil and garlic chips over the top and mix. Marinate for about 30 minutes.
Cook the pasta according to the package instructions, and add the warm pasta to the tomato bowl. Toss gently with pepper to taste. Top with the remaining ¼ cup of basil and a sprinkling of lemon zest. Serve immediately or at room temperature.
For dessert, I made one of our summer favorites….Peach and basil crumbles. The original recipe was also from MarthaStewart.com. I used frozen peaches for convenience, which also allows this recipe to be enjoyed year round. To make it a wee bit healthier, I used less sugar and substituted the butter for all natural Earth Balance "buttery" sticks. My new favorite culinary discovery. 🙂
Peach and Basil Crumbles
(Makes 2)
Filling ~
Frozen sliced peaches, thawed (The equivalent of 2 whole peaches)
1/2 tablespoon fresh basil, sliced into thin strips
1/4 teaspoon grated lemon zest
Pinch of salt
Topping ~
1 oz chopped unsalted almonds
1/8 cup packed light-brown sugar
3 tablespoons all-purpose flour
Pinch of salt
1 1/2 tablespoons cold Earth Balance, cut into 6 pieces
Preheat your oven to 400 degrees. To make the filling, simply mix all of the filling ingredients in a small bowl.
For the topping, combine all of the topping ingredients, rubbing the Earth Balance with your fingers until the mixture is crumbly.
Divide the filling between two small baking dishes, and sprinkle the topping evenly over them. Transfer to a baking sheet, and bake until they are bubbling and golden brown, about 25 minutes. Let cool slightly before serving.
We served this summer meal with a bottle of Chateau Ste. Michelle Midsummer's White. It was perfect for a midsummer's celebration! Light and refreshing. It's a blend of Viognier, Gewurztraminer, Muscat Canelli and Riesling.
http://nooncafe.com/wp-content/uploads/2015/07/NoonCafe-Logo-with-full-shadow.21.png
0
0
Laura
http://nooncafe.com/wp-content/uploads/2015/07/NoonCafe-Logo-with-full-shadow.21.png
Laura
2011-08-01 18:31:15
2015-07-21 14:53:59
Celebrating an August Anniversary ~ Tomato, Basil and Pasta Salad and Peach and Basil Crumbles