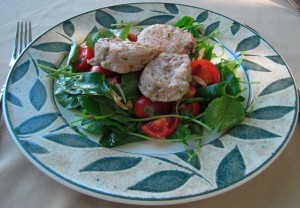 Cheers and thank you to all of the members of our military, past and present!
I attended one of my favorite Williams-Sonoma technique classes this weekend, which featured recipes for Memorial Day. They are free cooking classes held almost every Sunday before the store opens, and you get to taste the creations after they are made. I would highly recommend checking them out! I had a whole Memorial Day menu already figured out, but the samples were so tasty at the class that I changed my mind. We had lime marinated pork tenderloin medallions over a tomato, mint and watercress salad and lemon blini with raspberry sorbet. A very summery menu to kick off the unofficial start of summer! 🙂 This is my take on the recipes I learned. As usual, I tried to make them a tad healthier. For example, I used less salt in the marinade, quite a bit less olive oil for the dressing and more veggies than called for. In the dessert, I used skim milk instead of whole.
Lime Marinated Pork Tenderloin Medallions with Tomato, Mint and Watercress Salad
1 lb pork tenderloin, trimmed of any excess fat
1/2 teaspoon ground coriander
1/8 teaspoon ground cumin
Zest and juice of 1 lime
1 1/2 tablespoons light olive oil
1/4 teaspoon salt
Small garlic clove, minced
2 tablespoons finely minced onion
2 oz chicken stock
1 oz red wine vinegar
1/2 teaspoon honey
1 oz extra virgin olive oil
1 1/2 cups cubed tomatoes (bite size)
2 cups watercress
2 tablespoons fresh mint
2 tablespoons toasted slivered almonds
Cut the pork into uniform medallions, about 1 1/2 to 2 inches thick, and place in a baking dish. In a small bowl, whisk the coriander, cumin, lime zest and juice, olive oil, salt, garlic and onion. Pour the marinade over the pork, mix well so every piece is coated, cover, and refrigerate for 2 hours.
Preheat your oven to 375
Preheat an oven proof grill pan over medium heat. Remove the pork from the marinade, and reserve the remaining marinade. Grill the pork on the preheated pan, about 3 minutes per side. Transfer the pan to the oven, and finish cooking for about 6 minutes, or until cooked through.
Remove the pan from the oven and transfer the pork to a platter to rest under a tent of tin foil. Add the remaining marinade, stock, vinegar, and honey to the pan and simmer together until it is reduced by one third on the stovetop. Whisk in the extra virgin olive oil.
Mix the tomatoes, watercress, mint and almonds in a large bowl. Toss the warm dressing into the salad and serve with the pork on top.
Serves 2
Lemon Blini with Raspberry Sorbet
1/2 cup part skim ricotta cheese
1/2 cup skim milk
1 full egg (separated) and 1 egg white
2 tablespoons sugar
Zest and juice of 1/2 lemon
3/4 cup unbleached all purpose flour
1/2 tablespoon baking powder
Two pinches of salt
Store bought raspberry sorbet
In a large bowl, whisk the ricotta, milk, egg yolk, sugar, lemon zest and lemon juice until the mixture is smooth. Sift the flour, baking powder and a pinch of salt over the ricotta mix and stir until everything is combined.
In a separate bowl, whisk the egg whites until they are frothy. Add one more pinch of salt to this, and continue whisking until you have soft peaks.
Fold 1/3 of the egg whites with a spatula into the ricotta mix, and then gently fold the remainder of the whites in.
Preheat a pan over medium low heat and spray with cooking spray. 1 tablespoon at a time, drop the mixture onto the preheated pan. (This will make each blin about 3 inches in diameter.) Make sure not to crowd the pan. Cook about 2 minutes per side, until golden on the outside and cooked through.
Serve with small melon ball sized scoops of raspberry sorbet for a nice compliment to the mildly sweet lemony pancakes.
Serves 2, with leftovers
By the way, I'd like to note that I'm normally not a huge watercress fan. I find it too peppery and strong for my taste. But this dressing mellows out the flavor, so I actually enjoyed it! I think I'll be eating more of this vegetable in the future with this new recipe. I'd recommend trying it if you find you steer away from peppery greens like I do.
I should also mention these aren't technically blini, which are made of buckwheat flour and often served with caviar. But these are sweet little dessert pancakes along the same lines as that classic. Whatever you call them, I hope you enjoy!
http://nooncafe.com/wp-content/uploads/2015/07/NoonCafe-Logo-with-full-shadow.21.png
0
0
Laura
http://nooncafe.com/wp-content/uploads/2015/07/NoonCafe-Logo-with-full-shadow.21.png
Laura
2010-05-31 18:30:15
2015-07-26 18:04:29
Memorial Day ~ Lime Marinated Pork Tenderloin Medallions with Tomato, Mint and Watercress Salad and Lemon Blini with Raspberry Sorbet