Happy Easter!
I wanted to make something special but simple for our Easter dinner, since I didn't have a lot of time to put it together today. I found a pasta recipe from MarthaStewart.com that fit the bill. I made a couple of minor changes, but stayed pretty close to the original recipe. I replaced the cream cheese with Neufchâtel to reduce the fat. I also diced the onion and sautéed it in a separate pan before adding it to the mix, since I'm not wild about the flavor of raw onion. This is really simple enough for a weeknight, so I'll keep it in my collection of quick and delicious recipes. 🙂
Farfalle Pasta with Smoked Salmon and Neufchâtel
Adapted from MarthaStewart.com
12 ounces farfalle (butterfly pasta), preferably whole wheat
Coarse salt and ground pepper
1 small red onion, diced
Olive oil
2 ounces Neufchâtel cheese, cut into small pieces
1/4 cup fresh dill, coarsely chopped, or 1 teaspoon dried dill weed
2 tablespoons capers, drained and rinsed
4 ounces smoked salmon, flaked into bite-size pieces
Cook pasta in a large pot of boiling salted water until al dente, according to package instructions. Reserve 1/2 cup pasta water.
Meanwhile, sauté onion in olive oil in a separate pan until slightly caramelized.
Drain pasta, and return to pot.
Add onion, cream cheese, dill, capers, and salmon to pasta. Toss, adding reserved pasta water a little at a time to create a thin sauce that coats farfalle (you may not need all the water). Season lightly with salt and pepper. Serve.
Farfalle means "butterflies" in Italian, so I stayed with that theme and decorated the table with little butterflies! They seem so springy and cheerful. I found a website called Ellinee.com that has a lot of cute and free printable clipart. I have decorated our meals with their artwork on several occasions this year. I hope you'll check it out! Very festive, and did I mention, free? 🙂 I want to give a big thank you to that website for brightening our table! For this meal, I added butterflies to our bouquet of tulips and wine glasses (by taping them to skewers), and I also laid them around the table.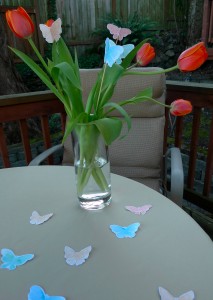 http://nooncafe.com/wp-content/uploads/2015/07/NoonCafe-Logo-with-full-shadow.21.png
0
0
Laura
http://nooncafe.com/wp-content/uploads/2015/07/NoonCafe-Logo-with-full-shadow.21.png
Laura
2013-03-31 20:41:22
2015-07-19 12:26:50
Easter Dinner ~ Farfalle "Butterfly" Pasta with Smoked Salmon and Neufchâtel