We have a romantic little Italian restaurant in Seattle underneath Pike Place Market called Il Bistro that has one of our favorite calamari dishes in the city. They serve it in a tomato sauce instead of frying it, as most places do. Since we can't go downtown everyday, I worked on replicating the dish at home to enjoy on our patio on warm summer nights. I finally made a version that is fairly close to the flavors at the restaurant, and I'd like to share it with you! 🙂
We enjoyed it on the first day of summer, outside with a glass of wine.
Calamari in a Zingy Tomato Sauce
1 lb calamari (I buy pre-cleaned, pre-sliced, frozen calamari to make this nice and easy. Just put as many as you would like in a bowl of cold water to thaw quickly.)
1 14.5 oz can tomatoes
2 oz can anchovies in oil, drained
2 garlic cloves, minced
1 small shallot, minced
¼ cup dry white wine
2 tablespoons extra virgin olive oil
15 medium sized green olives
1 tablespoon capers (I use the kind packed in brine rather than salt)
Salt and pepper to taste (I recommend you wait until everything is blended to add very much seasoning, since the other ingredients have a lot of salt. It is easier to tell if you need more after everything is blended together.)
Rustic bread slices, for serving
Heat the oil in a medium sauté pan, and add the garlic and shallot. Cook until fragrant. Stir in the remaining ingredients, except for the calamari (or bread.) Heat through, until it just begins to boil. Then place everything into a blender and pulse until smooth. Adjust the seasoning to your liking. Pour everything back into the pan. Bring to a boil again, and add the calamari. Cook until the calamari turn opaque, about 1 to 2 minutes.
Serve in a big bowl with sliced bread for dipping into the sauce.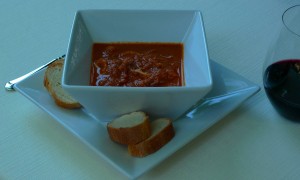 http://nooncafe.com/wp-content/uploads/2015/07/NoonCafe-Logo-with-full-shadow.21.png
0
0
Laura
http://nooncafe.com/wp-content/uploads/2015/07/NoonCafe-Logo-with-full-shadow.21.png
Laura
2013-06-22 13:41:21
2015-07-16 21:00:21
First Day of Summer ~ Calamari in a Zingy Tomato Sauce