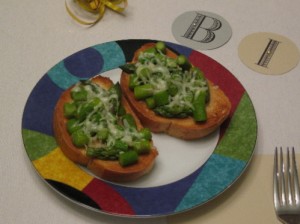 Happy birthday to Rob! On this day, I usually make him dinner with his favorite ingredients including beef tenderloin, asparagus and carrot cake. This year he said it might be fun to try a less traditional main course to shake things up :). After searching my favorite markets, I found a rabbit! The menu included recipes that were new as well as a couple of old favorites – Braised rabbit with mustard sauce, truffled asparagus crostini, golden beets in a cider vinaigrette and carrot cupcakes. I have already written about our favorite carrot cupcakes on this blog, and the truffled asparagus crostini are also one of our favorite appetizers. They are simple to make and they have a touch of class for any special occasion.
Truffled Asparagus Crostini
Baguette, sliced into ¾ inch pieces
1 pound asparagus
2 teaspoons truffle oil
Salt to taste
Freshly ground black pepper to taste
1/4 cup fontina cheese, grated (or any semi-hard cheese that you like)
Preheat you broiler.
Place the slices of bread in a single layer on a baking sheet. Broil for about 1 minute or until they are lightly browned. Turn them over and do the same on the other side. Cool on the pan.
Steam the asparagus for about 2 minutes or until slightly tender. Place in an ice bath to stop the cooking. Chop the asparagus into small pieces. Add oil, salt and pepper, and toss well.
Top each piece of bread with the asparagus mixture. Sprinkle the cheese over each crostini. Broil for about 1 minute or until the cheese melts a little. Serve warm.
We paired the meal with one of Rob's favorite wines from Columbia Winery called Otis Vineyard Cabernet Sauvignon. I decided on this wine since we held our wedding reception at Columbia Winery, and both Rob's birthday and our anniversary fall on the 2nd of a month. I almost always try to find some special significance with any bottle of wine I choose for a special occasion :). Cheers!
http://nooncafe.com/wp-content/uploads/2015/07/NoonCafe-Logo-with-full-shadow.21.png
0
0
Laura
http://nooncafe.com/wp-content/uploads/2015/07/NoonCafe-Logo-with-full-shadow.21.png
Laura
2010-11-12 13:35:22
2015-07-26 16:49:29
Happy Birthday ~ Truffled Asparagus Crostini