To celebrate one of my favorite days, I made a fun and festive dinner – A spicy Creole pumpkin soup served inside of a roasted pumpkin. 🙂
First I roasted a little sugar pumpkin. A friend of mine brought a larger version filled with fondue to a party, and it was a showstopper! I just had to try it! (Thank you for the idea and the tips, Karen!)
Just cut off the top of the pumpkin, scoop out the seeds and goop, and then replace the top. Spread olive oil evenly all over the outside of the pumpkin, including the stem. Place the pumpkin on a cookie sheet lined with parchment paper, and roast at 450 until the flesh inside is soft. My little sugar pumpkin only took 40 minutes, but a larger pumpkin would take a little longer.
You could use this pumpkin serving bowl with any favorite pumpkin soup recipe. The Creole pumpkin soup I made tonight was based on a recipe from a restaurant in New Orleans called Tableau. The unique soup was a little spicy, and perfect for our Halloween dinner!

Creole Pumpkin Soup with Shrimp, Chicken, and Andouille Chicken Sausage
Based on a recipe from Tableau
2 pounds shrimp, peeled and deveined, shells reserved
8 cups water
1 tablespoon high heat oil, such as safflower
12 ounces andouille chicken sausage, sliced
1 medium yellow onion, diced
1 stalk celery, diced
1/2 teaspoon dried thyme
2 garlic cloves, minced
1 15-ounce can puréed pumpkin
1 teaspoon mixed Creole or Cajun seasoning
1/8 teaspoon ground nutmeg
1/8 teaspoon ground cinnamon
Salt and pepper to taste
1 rotisserie chicken breast, shredded
In a large stock pot, add the shrimp shells and the water. Bring to a boil. Once it is boiling, reduce the heat to low, and simmer for about 20 minutes. Strain. Reserve the liquid and discard the shells.
Preheat a large stock pot over medium high heat. Once the pot is hot, add the oil. Once the oil is hot and shimmering, add the sausage. Brown the sausage on both sides. Remove the sausage from the pot, and set aside onto a plate lined with a paper towel.
In the same pot, add the onion, celery, and thyme. Cook until the onion is translucent. Then add the garlic, and cook until just fragrant, about 30 seconds. Add the pumpkin and cook until it starts to darken slightly, about 3 minutes. Add the shrimp stock, and scrape up the brown bits from the bottom of the pot. Bring to a boil, and then reduce heat to low. Simmer, stirring often, until the mixture starts to thicken, about 20 to 25 minutes.
Working in small batches, transfer the mix to a blender, and blend until smooth. Return to a pot. Add the Creole seasoning, nutmeg, and cinnamon. Season to taste with salt and pepper. Add the chicken sausage and the chicken breast. Simmer over low heat to combine all of the flavors, about 10 minutes. Add the shrimp, and cook until the shrimp are just cooked through. Serve immediately.
The Witches' Brew wine bottle printable came from TheGraphicsFairy.com. They are free to use, and oh so cute! I hope you'll check it out!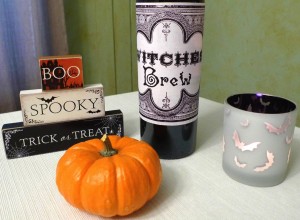 http://nooncafe.com/wp-content/uploads/2015/07/NoonCafe-Logo-with-full-shadow.21.png
0
0
Laura
http://nooncafe.com/wp-content/uploads/2015/07/NoonCafe-Logo-with-full-shadow.21.png
Laura
2015-10-31 18:46:16
2015-11-06 17:49:31
Happy Halloween! ~ Creole Pumpkin Soup with Shrimp, Chicken, and Andouille Chicken Sausage