Happy Valentine's Day!
We had a special little heart shaped appetizer to celebrate Heart Day :). The original recipe was from one of Sur La Table's cooking classes entitled Great Restaurant Recipes of Seattle, and this one was courtesy of Rover's. I streamlined it to make it a little more weeknight friendly, and I also made it a little healthier with a couple of substitutions. I replaced the crème fraiche with reduced fat sour cream, and I used Earth Balance in place of the butter. The original recipe mixes salmon with several other ingredients, but smoked salmon is so flavorful on its own that it really doesn't need more flavor to be delicious. By streamlining the recipe this way, I'm more likely to make it again for a special weeknight appetizer. The recipe below only took about 15 minutes to put together, and it has a great "wow" factor ;).
Smoked Salmon and Crispy Potato Tian with Sour Cream
2 servings
3 oz smoked salmon
6 oz Yukon Gold potatoes
2 tbsp Earth Balance buttery spread
1/8 tsp minced garlic
Pinch of thyme
1 tbsp minced fresh chives, plus more for garnish
1 tbsp reduced fat sour cream, plus more for garnish
Salt and pepper to taste
Crumble the salmon into fine bits, and set aside.
Cut the potatoes into a ¼ inch dice. (You may peel them if you wish, but the skin is just fine). Heat a large sauté pan over medium high heat, and then add the Earth Balance. Add the potatoes and sauté until they are golden and cooked through. Add the garlic and thyme and toss for 30 seconds. Transfer the potatoes to a plate lined with a paper towel to drain and cool slightly. Combine the potatoes, chives and sour cream in a small bowl and season with salt and pepper to taste.
To serve, set a 3-inch ring mold (or I used a heart shaped cookie cutter) in the center of a plate. Spoon the smoked salmon into the mold, pressing to form an even layer. Top with the potato mixture, again pressing lightly for an even layer. Repeat with the remaining salmon and potatoes. Top with a little sour cream and garnish with more chives.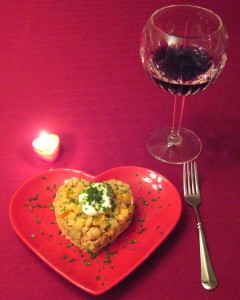 http://nooncafe.com/wp-content/uploads/2015/07/NoonCafe-Logo-with-full-shadow.21.png
0
0
Laura
http://nooncafe.com/wp-content/uploads/2015/07/NoonCafe-Logo-with-full-shadow.21.png
Laura
2012-02-14 15:04:18
2015-07-19 14:02:14
Happy Heart Day ~ Smoked Salmon and Crispy Potato Tian with Sour Cream