This year, we had red jambalaya with chicken, shrimp and lobster for our Mardi Gras celebration. I've been working my way through the recipes on the Domaine Chandon website, and this one caught my eye awhile back. It seemed perfect for tonight, so I saved it until now. I must say, it was worth the wait!  I would recommend it highly. I did make a handful of changes to make it a little healthier. I used brown rice instead of white, I only used 2 andouille sausage links (chicken or turkey preferred to pork) instead of a pound, I omitted the bacon grease or butter and replaced it with grapeseed oil and I used skinless chicken with the bone in. Other than those differences, I followed the recipe closely. We thought it was a delicious gourmet spin on traditional jambalaya.
Red Jambalaya with Chicken, Shrimp and Lobster
3 lbs chicken breasts and thighs with the bone in but skin removed
3-4 tbsp grape seed oil, or any other oil with a high smoke point
2 medium-sized onions, chopped
1 green pepper, diced
1 clove garlic, finely chopped
2 tbsp flour
2 links of sliced chicken or turkey andouille (about ½ lb) (if you would like less heat, you might want to use only one link)
3 cups tomato plus one extra medium tomato, chopped
½ tsp thyme
½ tsp pepper
½ tsp Tabasco sauce
(if you don't like things very spicy, use a little less)
1 cup water
1 cup tomato juice
¾ cup uncooked long grain brown rice
½ lb jumbo shrimp, shelled and deveined
2 small lobster tails, shelled and cut into small pieces (may substitute 12 oz small shrimp, shelled and deveined)
½ cup scallions, diced (discard green stalks)
¼ cup fresh parsley, chopped
Season the chicken with salt and pepper. Heat 2 tbsp oil and sauté until just browned and remove from pan. (It will not be cooked through.) Do not discard oil.
In the same pan, sauté onions, green pepper and garlic until onions are translucent. Remove from skillet.
Add remaining oil and gradually add flour, stirring often. Simmer until the color turns light brown.
In the same pan, stir in sausage, chicken, onion, pepper and garlic mixture and tomatoes (except for the extra medium tomato). Cook 10 minutes on medium high, stirring continuously.
Add thyme, ½ tsp pepper, Tabasco sauce, water, tomato juice and rice. Mix well and bring to a boil. Reduce heat and cover. Simmer for 30 minutes, or until the rice is tender.
Stir in shrimp, lobster, scallions, remaining tomato and parsley. Cook an additional 5 minutes until the seafood is just cooked through.
Makes 8–10 servings.
We also had my take on a Chandon Sidecar cocktail to go with our dinner. We were first introduced to sidecars at one of our favorite nightspots in Seattle called the New Orleans Creole Restaurant, so I always associate them with Creole cooking. For our drinks, I used ¾ oz of Grand Marnier, ½ oz Meyer lemon juice (its a little sweeter than regular lemon juice, so we didn't need any simple syrup to balance it) and ¾ oz of Cognac. Then top it with dry sparkling wine to your liking.
I hope you have a festive Mardi Gras! 🙂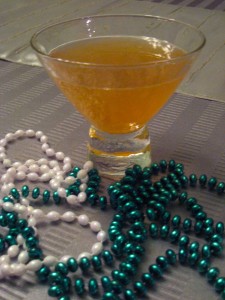 http://nooncafe.com/wp-content/uploads/2015/07/NoonCafe-Logo-with-full-shadow.21.png
0
0
Laura
http://nooncafe.com/wp-content/uploads/2015/07/NoonCafe-Logo-with-full-shadow.21.png
Laura
2011-03-08 14:08:39
2015-07-21 15:23:48
Happy Mardi Gras! ~ Red Jambalaya with Chicken, Shrimp and Lobster and Chandon Sidecars