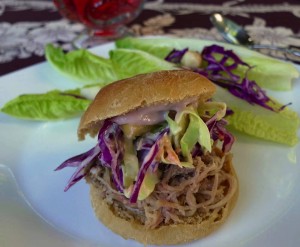 When summer rolls around, my backyard starts to feel a little tropical. Seattle's temperatures are about the same as Lahaina's this week. 🙂 I absolutely love the Hawaiian Islands, and so this warm weather gets me in the mood to cook Hawaiian-style dishes!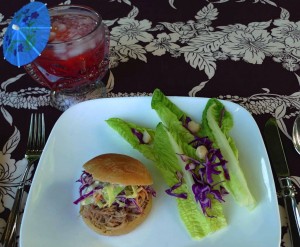 I based this dish on a recipe I found on CookingHawaiianStyle.com. It's a really fun recipe that uses a few of Hawaii's most famous ingredients in a fresh new way.
I made a few tweaks to make the recipes a little healthier. For the taro rolls, I used whole-wheat pastry flour and skim milk, I replaced the butter with coconut oil, and I reduced the amount of sugar. For the slaw, I used nonfat Greek yogurt in place of the sour cream, and I omitted the sugar altogether. I also reduced the amount of dressing by half, and added a little extra pineapple. (After all, the pineapple is one of the stars of the dish!) For the spread, I used fresh horseradish root rather than prepared horseradish.
And since I don't have an imu in my backyard to cook the pork, I chose a frozen kalua pork imported from Hawaii to keep it authentic. 😉 (I was able to find all of the ingredients I needed, including the pork and the poi, at my local Asian grocery store.)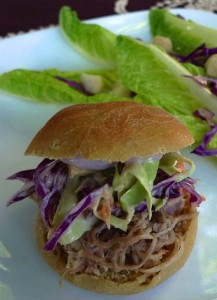 Kalua Pork on Whole-Wheat Taro Rolls with Poi Spread and Pineapple Slaw
Based on a recipe from Cooking Hawaiian Style
Taro Rolls:
1 (1/4 oz.) packet active dry yeast
1/4 cup lukewarm water
1/2 cup skim milk
1/3 cup coconut oil
2 tablespoons sugar
1/2 teaspoon kosher salt
2 large eggs, beaten
1/2 cup cooked taro, mashed
3 cups whole-wheat pastry flour
All-purpose flour for dusting hands and work surface
In a small mixing bowl, dissolve the yeast in lukewarm water. Let sit for a few minutes until the mixture is a little frothy on the top. (If there is no froth forming after 10 minutes or so, start again with a fresh packet of yeast. This means your yeast was not alive.) Scald milk by heating in a small saucepan over medium heat until bubbles appear around the inside edge of the pan and the milk is just about to boil. Pour milk into a mixing bowl. Combine the milk with the oil, sugar, and salt. Allow to cool, about 2 minutes. Into milk mixture, stir in the eggs, taro, and yeast mixture. In a large bowl, add the flour. Make a well in the center. Add the liquid mixture to the flour. Mix thoroughly until the dough comes together. On a floured work surface, turn the dough out. Knead until smooth. Transfer the dough into a well greased bowl. Cover with a damp towel, and let rise in a warm area until doubled in size, about 1 hour. Flour hands, and punch down the dough. Divide into 16-17 even portions. Shape into small balls and place onto two baking sheets lined with parchment paper. Cover with a damp towel, and let rise in a warm area until doubled in size, about 1 hour. Preheat oven to 350°. Bake until golden brown, about 15-20 minutes. Serve immediately and freeze the extras. Makes approximately 16-17 rolls.
Poi Horseradish Mayonnaise Spread:
1/2 cup fresh poi
1/4 cup water
Fresh horseradish, grated (to taste)
2 tablespoons mayonnaise
Slaw Dressing:
1/4 cup nonfat Greek yogurt
1/4 cup mayonnaise
1 green onion, green part only, finely chopped
1/2 teaspoon lemon juice
Slaw:
1 cup red cabbage, shredded
2 cups green cabbage, shredded
1 cup carrots, shredded
1 cup fresh pineapple, chopped
Pork:
12 oz. store-bought kalua pork
Poi Horseradish Mayonnaise Spread
In small mixing bowl, combine the poi and water and mix well using a wire whisk. Add the horseradish and mayonnaise, and whisk until smooth. Chill before serving.
Pineapple Slaw
In small bowl, combine all of the dressing ingredients. Blend well. In large bowl, combine all of the salad ingredients. Toss lightly. Pour dressing over salad. Mix well. Cover and refrigerate.
How to serve:
Take a taro roll and spread with the poi mayonnaise. Add kalua pork and top with pineapple coleslaw.
This pairs well with any drink served in a tiki glass! 🙂
http://nooncafe.com/wp-content/uploads/2015/07/NoonCafe-Logo-with-full-shadow.21.png
0
0
Laura
http://nooncafe.com/wp-content/uploads/2015/07/NoonCafe-Logo-with-full-shadow.21.png
Laura
2015-06-27 15:59:02
2015-07-15 17:11:40
It's officially summer! ~ Kalua Pork on Whole-Wheat Taro Rolls with Poi Spread and Pineapple Slaw