Happy Thanksgiving!
We celebrated a little early with family this year, so Rob and I had a quiet and cozy Thanksgiving for two on the actual holiday. I decided to shake things up a bit since we had the traditional turkey and sweet potatoes and all of that last week. For our own little celebration, we had Roasted Pheasant with Chestnuts, Wild Rice and Fennel, Frisée Salad with Blue Cheese, Walnut and Cranberry Crostini and a Pumpkin Cake Roll with Cream Cheese Frosting. If you would like to try something off the beaten path for your holidays, we both thought all three were exceptional! The recipes were twists on the traditional fare, so it still felt like Thanksgiving, but it was fun to try a few new things.
The frisée salad was a festive little starter for our meal. I have to admit, I am not a big cranberry sauce fan, and so the addition of dried cranberries on the crostini was my version of "cranberry sauce." 😉 I used quite a bit less blue cheese than the original recipe called for, and I was actually able to find a reduced fat cheese by Stella that had a very full flavor. I also used a baguette instead of ciabatta since I liked the size better, and it has fewer holes to let the goodies fall through ;). I made the whole recipe for the crostini, so as to have leftovers as snacks in the coming days.
Frisée Salad with Blue Cheese, Walnut, and Cranberry Crostini
Adapted from Bon Appétit magazine
24 ½ or ¼ inch-thick slices of a French baguette, depending on your preference
3 tablespoons walnut oil, divided
1/2 cup chopped toasted walnuts
1/4 cup reduced fat blue cheese, crumbled
5 tablespoons minced shallots, divided
1/3 cup dried cranberries
1 bunch of frisée lettuce
1 teaspoon red wine vinegar
Preheat oven to 400°F. Arrange bread slices on baking sheet. Brush bread slices on top side with 2 tablespoons walnut oil. Bake until crisp, about 5 minutes.
Mix walnuts, cheese, 4 tablespoons shallots, and dried cranberries in medium bowl. Sprinkle mixture on toasts. Bake until cheese melts, about 4 minutes.
Meanwhile, combine frisée, 1 tablespoon shallots, 1 tablespoon walnut oil, and vinegar in bowl. Serve with crostini on top of the frisée.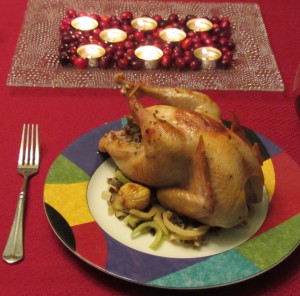 For the pheasant dish, I followed the recipe pretty closely. I did omit the butter when called for and used olive oil instead. I also needed to cook the pheasant longer than 40 minutes to get the breast meat to 160 degrees. If you haven't ever had pheasant before (like we hadn't) it has a very mild taste, but it is definitely not chicken or turkey. It was less gamey than I expected. A nice refreshing change from our usual poultry choices :). The sizes of the pheasants were also perfect for two with leftovers. I used two little 2 lb birds. (If you are in the Seattle area, Don and Joe's Meats in Pike Place Market carries pheasant along with many other specialty meats. It's a fun place to visit if you are looking for a little culinary adventure!)
Roasted Pheasant with Chestnuts, Wild Rice and Fennel
Adapted from MarthaStewart.com
2 cups fresh chestnuts
3/4 cup wild rice
1 teaspoon salt, plus more to taste
2 pheasants (about 2 pounds each)
1/4 cup fresh rosemary, finely chopped
1 clove garlic, minced
6 shallots, 2 minced and 4 slivered lengthwise
Freshly ground pepper
2 tablespoons plus 2 teaspoons olive oil
2 fennel bulbs (about 8 ounces each), sliced thinly crosswise
1 cup homemade chicken stock, or canned low-sodium chicken broth, skimmed of fat
Preheat oven to 425 degrees. With a sharp knife, make two crosscut gashes on flat side of chestnuts. Place on a baking sheet, and roast for 15 to 20 minutes. When cool enough to handle, peel off skins and set aside.
Rinse rice well. In a medium saucepan, combine with 3 cups water. Bring to a boil, reduce heat, cover loosely, and allow to simmer for 25 minutes. Remove from heat, add 1/2 teaspoon salt, and let sit for 10 minutes. Drain, and set aside.
Rinse pheasant, and pat dry. Combine rosemary, garlic, minced shallots, and salt and pepper to taste. Rub cavity with mixture. Season outside with salt and pepper. Tie pheasant's legs together with kitchen twine. Tuck wings under breast.
Reduce heat to 350 degrees. Pour 1 tablespoon oil in a roasting pan over medium heat. Brown bird evenly on all sides, about 15 minutes. Place breast side up; transfer to oven. Cook for about 40 more minutes, basting often, until legs are a little loose when you shake them.
Meanwhile, pour 1 teaspoon oil in a skillet. Add slivered shallots, and cook over medium heat for 5 to 6 minutes. Transfer shallots to a bowl.
Pour another 1 teaspoon oil in skillet. Add fennel slices, and cook for 5 minutes. Transfer to bowl.
Pour remaining tablespoon oil in skillet. Add chestnuts; cook for 2 minutes. Add 1/2 cup stock and 1/2 teaspoon salt. Bring to a boil and simmer until reduced to a glaze, about 10 minutes. Add remaining stock; simmer until again reduced to a glaze, about 5 minutes. Transfer to a plate.
Add rice, shallots, fennel, and 1 cup water to skillet and cook for 5 minutes. Add chestnuts. Season to taste with salt and pepper. Serve with pheasant.
For dessert, we had a pumpkin cake roll with cream cheese frosting. I reduced the sugar from the original recipe and I made a simple Neufchatel frosting for the middle instead of the traditional full fat cream cheese filling. The presentation was quite beautiful, but I must say, it looks harder to make than it actually was. My favorite kind of recipe! 😉
Pumpkin Cake Roll with Cream Cheese Frosting
Adapted from Cook's Country magazine
1
cup cake flour, sifted
2
teaspoons pumpkin pie spice
1/2
teaspoon baking soda
Pinch of salt
5
large eggs
1
cup sugar
1
cup canned pumpkin puree
16 ounces Neufchatel, room temperature
3/4 cup confectioners' sugar, plus more for garnish
For the Cake: Adjust oven rack to middle position and heat oven to 350 degrees. Grease 18- by 13-inch rimmed baking sheet and line with greased parchment paper. Whisk flour, spice, baking soda, and salt in medium bowl; set aside. With electric mixer on medium-high speed, beat eggs and sugar until pale yellow and thick, 6 to 10 minutes. Add pumpkin and mix on low until incorporated. Fold in flour mixture until combined. Spread batter evenly in prepared pan. Bake until cake is firm and springs back when touched, about 15 minutes. Before cooling, run knife around edge of cake to loosen, and turn out onto clean sheet of parchment paper that has been dusted with confectioners' sugar. Gently peel off parchment attached to cake and discard. Roll cake and fresh parchment into log and cool completely, about 1 hour.
For the Filling: Place the room temperature Neufchatel cheese in a food processor, and blend with ¾ cup confectioner's sugar until smooth.
To Assemble: Gently unroll cake and spread with frosting, leaving 1-inch border at edges. Re-roll cake snugly, leaving parchment behind. Wrap cake firmly in plastic wrap and chill completely, at least 1 hour or up to 2 days. Remove plastic, dust with confectioners' sugar.
http://nooncafe.com/wp-content/uploads/2015/07/NoonCafe-Logo-with-full-shadow.21.png
0
0
Laura
http://nooncafe.com/wp-content/uploads/2015/07/NoonCafe-Logo-with-full-shadow.21.png
Laura
2011-11-24 15:56:44
2015-07-19 15:24:46
Lots to be thankful for ~ Roasted Pheasant with Chestnuts, Wild Rice and Fennel, Frisée Salad with Blue Cheese, Walnut and Cranberry Crostini and a Pumpkin Cake Roll with Cream Cheese Frosting