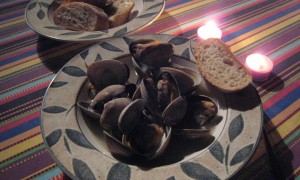 Rob and I have started a new little tradition that makes an ordinary evening feel like a special occasion to us. We light some candles and our tiki torches outside, have a glass of wine and enjoy this steamed clam dish together. We used to go out for a similar dish at a nearby restaurant called BluWater Bistro, but I figured out a comparable recipe that we like even more at home. I don't use nearly the amount of butter they use, but I think it still needs a tiny bit for flavor. I also think half the fun of clams is watching them pop open as they cook…Something we miss when we go out to eat. Not to mention, it is much less spendy to make at home :). This is not a strict recipe. Just taste as you go to make sure you have the flavors you like.
Steamed Clams
1 or 2 cloves minced garlic (depending on how much garlic you like)
1/2 tablespoon butter
2 cups low sodium free-range chicken stock
Splash of dry white wine, such as Chardonnay or Sauvignon Blanc
About 2 lbs of farmed clams
Salt to taste
2 tablespoons fresh flat leaf parsley (optional)
French bread (optional)
Scrub your clams very well and discard any that are cracked or open. (If any clams are just a tiny bit open, tap them on the counter…If they close, they are still alive and good to use. If they don't, they are not safe to eat, so toss them.) Melt the butter in a large pan (one that has a lid), and sauté the garlic for a minute or until fragrant. Pour the chicken broth and white wine into the pan and bring to a boil. Taste for seasoning once it is hot, and add salt if you desire. When the mixture is boiling, put all of the clams in the pan and cover with the lid. Watch them closely. When all of them have opened, take the lid off and take the pan off the heat. (If any did not open, discard them.) Spoon the clams and broth into two big bowls. If you desire, finish with a sprinkling of fresh chopped parsley and serve with slices of French bread to soak up the extra broth. Also, be sure to serve with an extra bowl for the shells.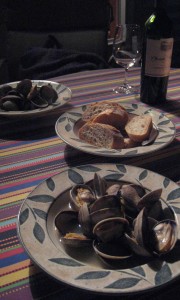 http://nooncafe.com/wp-content/uploads/2015/07/NoonCafe-Logo-with-full-shadow.21.png
0
0
Laura
http://nooncafe.com/wp-content/uploads/2015/07/NoonCafe-Logo-with-full-shadow.21.png
Laura
2010-06-27 13:52:14
2015-07-26 17:03:22
Make an ordinary summer night special ~ Steamed Clams