Amid several heavy Christmas dishes, I made a light and festive salad that was inspired by a recipe from Domaine Chandon. The different elements really came together to make a delicious combination. It was very easy to assemble, but it felt a little special. That's my idea of the perfect Christmas dish :).
I used walnuts instead of pecans to go with the walnut vinaigrette. I also replaced the butter in the nut recipe with Earth Balance, one of my exciting new culinary discoveries of the year :).
Belgian Endive and Frisée Salad with Fennel, Asian Pear and Spiced Walnuts in a Walnut Vinaigrette
Adapted from the Domaine Chandon Cookbook: Recipes from Étoile Restaurant
Spiced Walnuts
2 tablespoons Earth Balance buttery spread
1 tablespoon maple syrup
2 teaspoons brown sugar
¼ teaspoon cinnamon
¼ teaspoon cayenne pepper
Pinch of salt
2 cups walnut halves
Preheat the oven to 325°F.
In a small saucepan, melt the Earth Balance over low heat. Stir in the maple syrup, brown sugar, cinnamon, cayenne, and salt. Add the walnuts, stirring to coat well. Spread the walnuts on a baking sheet and bake until toasty brown, about 15 minutes, stirring every 5 minutes to prevent sticking or burning. Remove from the oven and let cool. Store in an airtight container at room temperature for up to 1 week.
Salad
2 tbsp walnut oil
1 tbsp extra-virgin olive oil
1 tbsp Champagne vinegar
1 tsp Dijon mustard
1 small shallot, minced
1 garlic clove, minced
2 Belgian endives
1 head frisée lettuce, cored and coarsely chopped
1 fennel bulb, core and stalks removed, cut into thin rounds
1 Asian pear, cored and cut into matchsticks about 1/4 in thick
Salt and freshly ground pepper
1/3 cup spiced walnuts (recipe above)
In a large salad bowl, combine the walnut oil, olive oil, vinegar, mustard, shallot, and garlic. Whisk until the vinaigrette thickens and all the ingredients are thoroughly blended.
Add the endives, frisée, fennel, and pear to the bowl. Toss gently until evenly coated with the vinaigrette. If desired, season with salt and pepper to taste. Divide among 4 salad plates and garnish with the walnuts. Serve at once.
Serves 4 with leftovers.
Merry Christmas!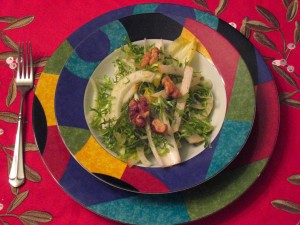 http://nooncafe.com/wp-content/uploads/2015/07/NoonCafe-Logo-with-full-shadow.21.png
0
0
Laura
http://nooncafe.com/wp-content/uploads/2015/07/NoonCafe-Logo-with-full-shadow.21.png
Laura
2011-12-25 23:47:18
2015-07-19 15:19:05
Merry Christmas ~ Belgian Endive and Frisée Salad with Fennel, Asian Pear and Spiced Walnuts in a Walnut Vinaigrette