Instead of roasting chestnuts over on an open fire, I made a festive and creamy chestnut soup with truffle oil for Christmas this year. 🙂 It was a unique and delicious first course to our family dinner!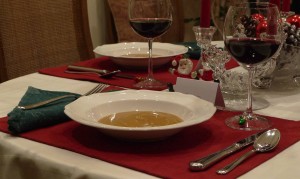 The original recipe was from a cooking class at Sur La Table. I omitted the 1/2 cup of heavy cream altogether since it was luscious and creamy without any dairy, and I replaced the butter with Earth Balance. I also added a little more chicken broth than the original recipe called for to make the soup a little thinner.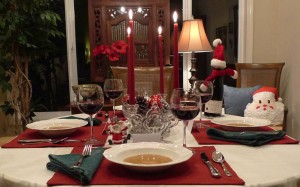 Creamy Chestnut Soup with Truffle Oil
Based on a recipe from Sur La Table's cooking classes
Yield: 6 servings
2 tablespoons Earth Balance
2 tablespoons olive oil
1 cup roughly chopped onions
1/2 cup roughly chopped carrots
1/2 cup roughly chopped celery
1 medium garlic clove, peeled and chopped
2 1/2 cups cooked peeled chestnuts
1 teaspoon kosher salt
1/4 cup dry sherry
2 (4-inch) thyme sprigs
3 cups low-sodium
 chicken broth, plus more to thin the soup if you desire
Kosher salt and freshly ground black pepper
Black truffle oil, for drizzling
Place a large, heavy saucepan on the stove over medium heat. Heat the Earth Balance and oil until melted. Stir in the onion, carrots and celery and cook until tender, about 7 minutes. Stir in the garlic and cook until fragrant, about 1 minute.
Stir in the chestnuts and salt and cook until the chestnuts are coated in the aromatics and warmed through, about 4 minutes. Increase the heat to medium-high, add the sherry and thyme and cook until the liquid has evaporated. Add the stock and bring to a boil. Reduce the heat to a simmer, cover and cook until the chestnuts are tender, about 30 minutes. Discard the thyme sprigs.
Using an immersion blender or standard blender, puree soup until smooth. Return the saucepan to the heat, add more broth if you would like the soup to be thinner, and bring back to a simmer. Taste and adjust seasoning with salt and pepper.
To serve: Using a ladle, transfer the soup to individual bowls. Drizzle with truffle oil and serve immediately.
http://nooncafe.com/wp-content/uploads/2015/07/NoonCafe-Logo-with-full-shadow.21.png
0
0
Laura
http://nooncafe.com/wp-content/uploads/2015/07/NoonCafe-Logo-with-full-shadow.21.png
Laura
2014-12-26 19:48:05
2015-07-15 14:12:37
Merry Christmas ~ Creamy Chestnut Soup