Almost every Mother's Day weekend, my mom and I get together for a girls' weekend to celebrate! We love to spend the time together doing our favorite things like shopping, exploring wineries, and staying up late chatting. 🙂 Given that I am less of a morning person than she is, I made sure she had a bunch of muffins for breakfast when she got up before me. 😉 I decided to make these healthy morning muffins this year.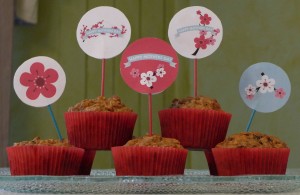 I replaced the all-purpose flour with whole-wheat pastry flour, and I also added a tad more skim milk to make sure they stayed moist. I replaced the raisins with currants, since Mom is not a big raisin fan. 😉 I also reduced the salt to a pinch.
Healthy Morning Muffins
Based on a recipe from Martha Stewart
1 1/4 cups whole-wheat pastry flour (spooned and leveled)
1/2 cup packed dark-brown sugar
1/2 teaspoon baking soda
1/2 teaspoon baking powder
1/2 teaspoon ground nutmeg
Pinch of coarse salt
1 cup old-fashioned rolled oats
1/4 cup currants
3 tablespoons light olive oil
1 large egg
1/3 cup + 1 tablespoon skim milk
4 medium carrots, shredded
1 medium ripe banana, mashed
Preheat oven to 400 degrees. Line a 12-cup muffin pan with cupcake liners. In a large bowl, whisk together flour, brown sugar, baking soda, baking powder, nutmeg, and salt until there are no lumps. Stir in oats and currants. Add oil, egg, milk, carrots, and banana and stir until blended.
Fill each muffin cup with 1/4 cup batter. Bake until a toothpick inserted in center of a muffin comes out clean, 23 to 25 minutes. Serve muffins warm or at room temperature.
The super cute little decorations are from CatchMyParty.com. They have a large collection of free and printable decorations for all sorts of celebrations, and I would highly recommend checking them out! I made cupcake flags and matching votive wraps from the pretty Mother's Day "Blossoms" design.
http://nooncafe.com/wp-content/uploads/2015/07/NoonCafe-Logo-with-full-shadow.21.png
0
0
Laura
http://nooncafe.com/wp-content/uploads/2015/07/NoonCafe-Logo-with-full-shadow.21.png
Laura
2014-05-12 19:55:03
2015-07-15 21:39:13
Mother's Day Weekend ~ Healthy Morning Muffins