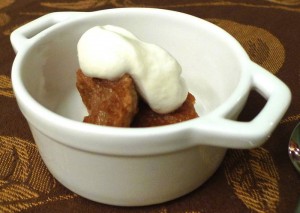 Today is National Indian Pudding Day! (Yes, surprisingly, it is actually a real holiday. 😉 ) I have never lived in New England, and I have to admit, I wasn't familiar with Indian Pudding until recently. But then I read about its fascinating history as one of the first American recipes, and I had to give it a try! It's a fusion of classic hasty pudding from the Old World, corn from the New World, and molasses from early American trading with the Caribbean. The dish is simple, but delicious and comforting. If you missed the big holiday today ( 😉 ), this dish would also be lovely on your Thanksgiving table.
I based this recipe on one from Bon Appétit magazine. I cut the recipe in half to make only 4 servings. I used skim milk rather than whole, I reduced the sugar a little, and I added more spices and seasoning.
Indian Pudding
Based on a recipe from Bon Appétit magazine
2 3/4 cups skim milk
1/2 cup lightly packed light brown sugar
1/3 cup cornmeal
1 tablespoon molasses
1 teaspoon ground ginger
1 teaspoon ground cinnamon
2 tablespoons unsalted butter, plus more for greasing the pan
1/2 teaspoon vanilla extract
Whipped cream for serving
Preheat your oven to 325 F. Grease a 9-inch casserole dish. Set aside. In a medium saucepan over medium high heat, combine the milk through the cinnamon. Whisk occasionally to prevent lumps. Once the mixture is hot, cook for about 15 minutes, or until thickened. Remove the saucepan from the heat, and add the butter and vanilla. Whisk until well combined. Pour the mixture into the prepared casserole dish. Bake until the pudding is golden and set in the middle, about 1 hour and 15 minutes. Cool slightly before serving with whipped cream.
http://nooncafe.com/wp-content/uploads/2015/07/NoonCafe-Logo-with-full-shadow.21.png
0
0
Laura
http://nooncafe.com/wp-content/uploads/2015/07/NoonCafe-Logo-with-full-shadow.21.png
Laura
2015-11-13 21:07:49
2015-11-15 20:08:01
One More November Holiday ~ Indian Pudding