We have been thoroughly enjoying our little pool this summer :). Even when it's too chilly to put my feet in, I like to sit beside the water with a magazine (or my blog!) since it makes me feel like I am on a little vacation at home. I am soaking up all of the summertime sunshine I can!
I made a little salmon dip to nibble on these warm summer days. The original recipe came from MarthaStewart.com. I reduced the mayonnaise a tad, and I replaced the cream cheese with Neufchatel. I also served this creamy rich dip with celery stalks instead of bagel chips, since that is a little more bikini friendly :).
Smoked Salmon Dip
Adapted from MarthaStewart.com
3 tablespoons mayonnaise
4 ounces Neufchatel cheese
1 tablespoon capers, rinsed and drained
1 tablespoon red onion, diced small
1 to 2 teaspoons fresh lemon juice
1/2 teaspoon prepared horseradish
2 ounces plus 2 more ounces smoked salmon, crumbled
1 tablespoon chopped fresh parsley
Celery, for serving
In a food processor, combine mayonnaise, Neufchatel, capers, red onion, lemon juice, horseradish, and 2 ounces smoked salmon. Process until smooth, about 20 seconds. Transfer to a small bowl and stir in remaining 2 ounces smoked salmon. Top with fresh parsley and serve with celery.
I was inspired to pair this recipe with Cannonball Cabernet Sauvignon….The perfect poolside wine!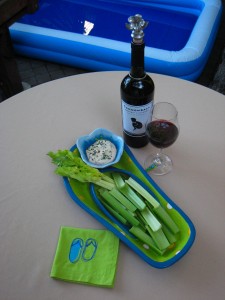 http://nooncafe.com/wp-content/uploads/2015/07/NoonCafe-Logo-with-full-shadow.21.png
0
0
Laura
http://nooncafe.com/wp-content/uploads/2015/07/NoonCafe-Logo-with-full-shadow.21.png
Laura
2012-08-12 13:12:07
2015-07-19 13:41:57
Poolside Snack ~ Smoked Salmon Dip with Celery