We have a little community of squirrels in our backyard that are very amusing to watch! One in particular is a brave little guy, and he will come right up to our feet and look up at us. SO adorable! (Perhaps keeping a stash of nuts for him has a little something to do with it ;-)). Since we have been enjoying our little woodland creatures so much this winter, I was excited to see there is a holiday today (yes, it's an actual holiday!) called Squirrel Appreciation Day! Here's a little article about the celebration.
In honor of the day and our cute little neighbors in the backyard, I made a batch of sweet and spicy nuts! The original recipe was from Food and Wine magazine. I used only half of the cayenne pepper as a matter of preference, and I used a bag of mixed fancy raw nuts instead of just cashews and almonds, but otherwise followed their recipe.
Sugar and Spice Nuts
Based on a recipe from Food and Wine magazine
3/4 cup sugar
1 tablespoon kosher salt
1 tablespoon chile powder
2 teaspoons cinnamon
1 teaspoon cayenne pepper
1 large egg white
16 oz mixed raw nuts
Preheat the oven to 300°. Coat a rimmed baking sheet with nonstick cooking spray. In a small bowl, whisk the sugar with the salt, chile powder, cinnamon and cayenne pepper. In a large bowl, beat the egg white until frothy. Add the nuts and spiced sugar and toss. Spread out the nuts on the prepared baking sheet and bake for about 45 minutes, stirring once, until browned. Let the nuts cool on the baking sheet, stirring occasionally.
MAKE AHEAD The spiced nuts can be stored in an airtight container for up to 2 days.
Here's my favorite photo of our little squirrel buddy! How can we say no to that little face? 😉 That's why we keep a stash of nuts for him!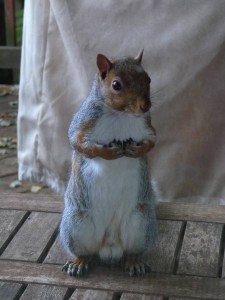 http://nooncafe.com/wp-content/uploads/2015/07/NoonCafe-Logo-with-full-shadow.21.png
0
0
Laura
http://nooncafe.com/wp-content/uploads/2015/07/NoonCafe-Logo-with-full-shadow.21.png
Laura
2014-01-21 00:05:57
2015-07-16 11:07:10
Squirrelly Snacks ~ Sugar and Spice Nuts