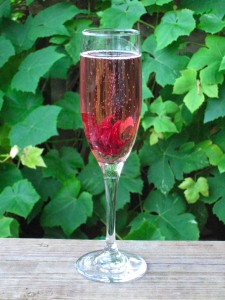 To celebrate our wedding anniversary this year, we decided to try a few more recipes inspired by the Domaine Chandon website and cookbook. We tried a few of their recipes on our engagement anniversary last Valentine's Day, so it seemed like a good choice to try a few more on our wedding anniversary to make a full circle J. On a beautiful summer night in our backyard, we got dressed up, lit a bunch of tea light candles all around the patio and enjoyed Chandon Hibiscus Royale cocktails, a curried apple salad with mizuna, sprouts and prosciutto, duck breasts with a celeriac potato purée and caramelized carrots and champagne sabayon over fresh berries.
I'll begin with our pre-dinner cocktail and then add the other recipes over the month. It was a unique and romantic sparkling wine cocktail…Perfect for an anniversary :). I found the hibiscus flowers at a little specialty shop in Seattle called the Chef Shop. The rose water came from another specialty shop in Pike Place Market called DeLaurenti. Both are very fun places to visit if you are in the mood for a little culinary adventure! I think half the fun is exploring markets for new and different ingredients :).
Hibiscus Royale Cocktails
1 hibiscus flower (wild hibiscus flowers in syrup)
½ tbsp syrup from the jar of wild hibiscus flowers
1 small drop of rose water
Sparkling wine such as Domaine Chandon Blanc de Noirs
Combine the hibiscus flower, syrup and rose water in a champagne flute. Then top with the sparkling wine and serve immediately.
Makes one cocktail.
Cheers!
http://nooncafe.com/wp-content/uploads/2015/07/NoonCafe-Logo-with-full-shadow.21.png
0
0
Laura
http://nooncafe.com/wp-content/uploads/2015/07/NoonCafe-Logo-with-full-shadow.21.png
Laura
2011-09-03 18:58:34
2015-07-21 14:51:42
Wedding Anniversary, Part 1 ~ Hibiscus Royale Cocktails