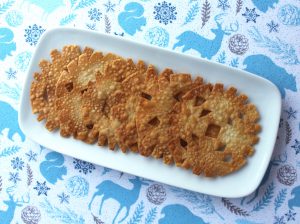 Remember the paper snowflakes you used to make as a kid? Fold up a piece of paper and cut slits into it. When you open it up again, you end up with a beautiful snowflake! That is the general idea behind these crackers. Let your inner child come out to play this winter with this fun little baking project. 🙂 Bonus: It will warm up your kitchen!
Snowflake Wonton Crackers
Round wonton wrappers
High heat cooking spray
Salt to taste
Grated Parmesan, optional
Preheat oven to 350 F. Line 2 baking sheets with parchment paper.
Fold each wonton wrapper in half, and then in half again. With a sharp pair of kitchen scissors, cut little slits into the sides of the wrapper. Open the wrapper so it lays flat again. Spray the wrapper with a light coating of cooking spray and gently rub the oil evenly over the surface with your finger. Season with a sprinkling of salt and Parmesan if you would like. Repeat with as many crackers as you desire.
Bake for about 7 to 10 minutes, or until the wonton wrappers are golden brown and crunchy.
http://nooncafe.com/wp-content/uploads/2015/07/NoonCafe-Logo-with-full-shadow.21.png
0
0
Laura
http://nooncafe.com/wp-content/uploads/2015/07/NoonCafe-Logo-with-full-shadow.21.png
Laura
2018-01-20 20:25:39
2018-01-22 16:17:58
Winter Wonderland ~ Snowflake Wonton Crackers