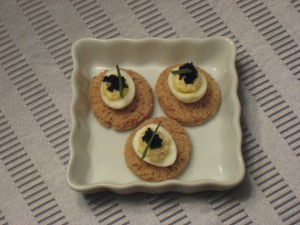 This January, I have been working my way through the Domaine Chandon Cookbook: Recipes from Étoile Restaurant. I associate sparkling wine with the beginning of the year, so it seemed like the perfect cookbook for this month. (In case you aren't familiar with the winery, Domaine Chandon is best known for its bubbly since it is the American little sister to Moët & Chandon.) Rob and I also had a very memorable visit to that winery a couple of years ago, so it's a special place for us. We joined their wine club for a time, had a fabulous dinner at the restaurant and enjoyed their beautiful grounds on a warm September evening. So many recipes from the cookbook sounded delicious and inspired me to try them. Cooking fine recipes makes an ordinary meal feel a little special to me. As Rob said, it's my art. It isn't just the necessary fare, but something higher. So it makes me feel like we are living life well, even when it's cold and dark outside. I ended up trying a healthier twist on quite a few of the cookbook's recipes…deviled quail eggs with caviar and chives, pomegranate fizz cocktails, green vegetable gazpacho with shrimp, truffled popcorn, brandy spiced shrimp, coconut lime mussels, Parmesan soufflés with a leek purée, salmon and tuna tartare and chicken breasts with toasted orzo and a thyme infusion. Out of all of those very good recipes, we really enjoyed the quail eggs. They were absolutely adorable! Plus, I always enjoy cooking with something I've never tried before, and quail eggs were new to my kitchen. They are a little bit time consuming because they are so tiny, but if you are in the mood to spend some quality time making a gourmet creation, they are a lot of fun! It wouldn't be like me to completely follow a recipe, so I did lighten them a little by omitting the crème fraiche and using Neufchâtel instead. The filling was a little firmer with this substitution, but we thought it was very delicious. I also used whole grain bread for the base instead of brioche.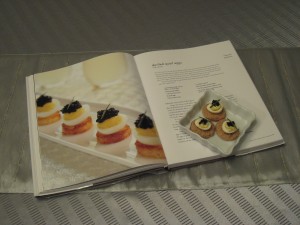 Deviled Quail Eggs with Caviar and Chives
1 loaf sliced whole grain bread
2 tablespoons minced shallot
1 teaspoon lemon juice
20 quail eggs
2 tablespoons Neufchâtel cheese
1 teaspoon Dijon mustard
Salt and ground black pepper to taste
1 ounce caviar
5 fresh chives, cut into 1 centimeter long pieces
Preheat your oven to 350 degrees.
With the rim of a sparkling wine glass flute, cut rounds of bread from your bread slices. (Take care to avoid the crusts). Pinch a small indentation into the center of each round with your index finger and thumb to hold the quail eggs. Place the bread rounds on a baking sheet and bake until golden brown, 10 to 12 minutes. Remove and cool.
In a small bowl, combine the shallot and lemon juice.
In a medium saucepan, place the quail eggs and enough cold water to cover the eggs. Bring to a boil over high heat, and then reduce the heat to medium-low. Cook the eggs for 3 minutes until they are hard boiled. Remove from the heat and carefully place the eggs in cold water for 5 minutes.
Peel away the shells, starting at the wide bottom end of each egg. Rinse each egg with cold water to make sure no little pieces of shell remain. Set them on paper towels to dry. Cut each egg in half lengthwise with a sharp knife. Remove the yolks with a very small spoon and place them in the bowl with the shallot and lemon juice mix.
Add the Neufchâtel, mustard, salt and pepper to the yolks. Using a fork, mash the yolk mixture until a thick paste forms and everything is well combined.
Using a very small spoon, fill the cavity of each egg-white half with the yolk mixture. Set each egg half in an indentation on top of the toasted bread rounds.
Place a tiny bit of caviar and one small slice of chive on top of each egg. Serve chilled or at room temperature.
These paired very well with pomegranate fizz cocktails from the cookbook. I made them with just a splash of Grand Marnier and pomegranate juice in a glass of sparkling wine. Garnish with a little bit of orange peel for an added special touch.
http://nooncafe.com/wp-content/uploads/2015/07/NoonCafe-Logo-with-full-shadow.21.png
0
0
Laura
http://nooncafe.com/wp-content/uploads/2015/07/NoonCafe-Logo-with-full-shadow.21.png
Laura
2011-01-31 13:25:43
2011-12-03 13:32:15
Working my way through the delicious Domaine Chandon Cookbook ~ Deviled Quail Eggs with Caviar and Chives