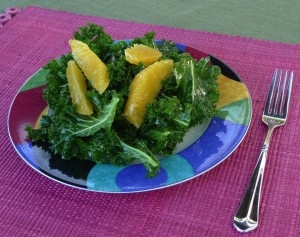 This is a healthy, easy, and colorful salad to put together as a side dish to any meal. I love to make it at this time of the year, when citrus is in season. (Isn't it cool that citrus fruit is at its peak in the middle of winter? It brightens up the darkest months. 🙂 ) Feel free to add any other favorite ingredients. I think grapefruit, avocado, beets, or pomegranate would go well. The sky is the limit! I kept mine simple this time around. It is a good, basic recipe to build on.
Kale and Citrus Salad
Serves 2
4 or 5 large stalks of kale, cut or torn into bite-size pieces (Discard tough center stems.)
1 orange, cut into supremes (For how-to, check out this link.)
Juice of the remaining portion of the orange (After supreming, squeeze the remaining portion of the orange over a liquid measuring cup to use all of its juice.)
Lemon juice, added to the orange juice so the total volume of the combined citrus juice equals ¼ cup
¼ cup extra virgin olive oil
Salt and pepper to taste
Place the torn or chopped kale into a large bowl.
Slowly drizzle olive oil into the citrus juice mixture, whisking as you go until it is emulsified into a vinaigrette. Add salt and pepper to taste.
Pour as much of the vinaigrette over the kale as you would like. Rub the vinaigrette into each leaf, so every piece is well coated.
Top the greens with the orange supremes and enjoy!
http://nooncafe.com/wp-content/uploads/2015/07/NoonCafe-Logo-with-full-shadow.21.png
0
0
Laura
http://nooncafe.com/wp-content/uploads/2015/07/NoonCafe-Logo-with-full-shadow.21.png
Laura
2015-01-17 19:10:15
2015-07-15 14:07:58
A bright salad for a winter day ~ Kale and Citrus Salad