Happy Australia Day! Every January 26th, Australia celebrates this national holiday. It falls in the middle of summer in the southern hemisphere, so much like the way we celebrate the Fourth of July, they celebrate with barbeques, fireworks and outdoor concerts.
Twenty years ago this month, I had the good fortune to travel to Australia through my university. (How did twenty years go by already? Wow!) It was an extraordinary experience I will never forget.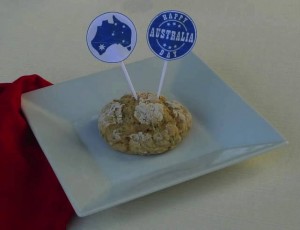 To celebrate the holiday and the good times I had in Australia, I decided to make a special Australian dinner. We had split pea and ham soup with Cheddar and chive dampers. I chose the menu based on an article from CNN Travel about forty dishes Australians call their own. It is a fun article filled with many foods I have never tried before. There is much more to explore!
For the dampers, I was inspired by an Australian recipe website called Taste, but I ended up changing the recipe to a large extent for my own version. Mainly, I used 100% whole-wheat pastry flour combined with baking powder rather than self-rising flour, and I made individual dampers rather than one large one. I also made only half of the recipe, and reduced the portion size. They were the perfect accompaniment to the split pea and ham soup!
The cute little flags were printed from Jellyfish Prints. I couldn't resist adding them for a festive touch. 🙂 They are completely adorable, and also free!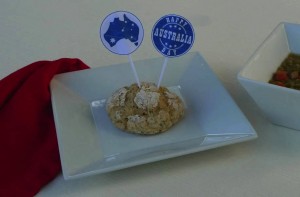 Cheddar and Chive Dampers
1 ¼ cups whole-wheat pastry flour
2 teaspoons baking powder
¼ teaspoon kosher salt
½ cup Cheddar, coarsely grated
½ bunch chives, finely chopped
½ cup buttermilk
1 egg, scrambled
Preheat oven to 350 degrees.
Combine the flour, baking powder, salt, cheese and chives in a large bowl, whisking to combine. Add the buttermilk and egg, and stir until well combined. On a lightly floured surface, knead the dough until it comes together. Divide into 4 equal pieces, and shape each piece into a ball. Place each ball onto a parchment lined baking sheet, flattening the top slightly. Bake about 15 minutes, or until the underside of each damper sounds hollow when tapped.
Cool for 5 or 10 minutes, and serve warm.
http://nooncafe.com/wp-content/uploads/2015/07/NoonCafe-Logo-with-full-shadow.21.png
0
0
Laura
http://nooncafe.com/wp-content/uploads/2015/07/NoonCafe-Logo-with-full-shadow.21.png
Laura
2015-01-25 18:22:17
2015-07-15 14:08:54
Happy Australia Day! ~ Cheddar and Chive Dampers