I like to celebrate the little anniversaries that mark special events in our lives. On this date 16 years ago, Rob and I moved into our current house. It also marks my 19th anniversary of becoming a Seattleite!
To celebrate, we had a steamed Dungeness crab dinner, which is our favorite Northwest dish. Whenever we have crab, it feels like a special occasion! To cap off dinner, I made this summery dessert. Peaches are ripe in the markets now, so I wanted to highlight their sweet deliciousness with a ricotta honey cream and a little aged balsamic vinegar. You could grill the peaches, but we preferred them natural, just as they come. I did use heavy cream, but I cut it in half with a low fat ricotta. Only a little dollop is needed, so I figured a little cream would be fine. It was a celebration, after all! 😉
Peaches with Ricotta Honey Cream and Aged Balsamic Vinegar
Based on a recipe from Sur La Table cooking classes
2 ripe peaches
½ cup heavy cream
½ cup low fat ricotta
1 teaspoon lemon zest
1 teaspoon vanilla bean paste
2 teaspoons honey
Aged balsamic vinegar, for drizzling
Mint, optional
In the bowl of a food processor, add the cream and ricotta. Process until thick, about a minute. Add the zest, vanilla, and honey, and pulse until combined.
To serve, cut the peaches in half, and place a dollop of the ricotta cream mixture in the middle of each half. Serve with balsamic vinegar drizzled on the top or on the side, and a sprig of mint if you desire.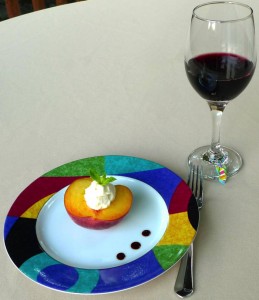 http://nooncafe.com/wp-content/uploads/2015/07/NoonCafe-Logo-with-full-shadow.21.png
0
0
Laura
http://nooncafe.com/wp-content/uploads/2015/07/NoonCafe-Logo-with-full-shadow.21.png
Laura
2014-08-01 21:02:56
2015-09-26 19:20:24
August 1st Anniversary ~ Peaches with Ricotta Honey Cream and Aged Balsamic Vinegar