We celebrated our wedding anniversary this year with a special Hawaiian-style dinner. We love to explore foods from all around the world. For Valentine's Day (also our engagement anniversary), we made a sushi dinner, so we decided to go with a twist on that theme for our wedding anniversary by making a few Japanese-influenced dishes from Hawaii. It was a summery meal from the land of endless summers!
The weather was not very Hawaiian-like for our celebration, though. Ha! (But it was very Seattle-like!) It was a little drizzly, and cooler than it usually is around our anniversary. We decided to use that opportunity to set the dinner table in a new place…We kicked open the French doors in the guest room, and ate inside overlooking a sea of candles and tiki torches. 🙂 Luckily it wasn't too rainy, so the candles stayed lit. It was really beautiful!
I also found some sweet little printable paper orchids on Elli.com. They were free, very easy to assemble, and I think they added a fun tropical touch to our table.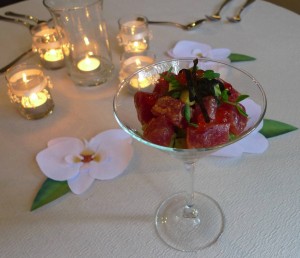 I based two of our dishes on recipes from a cookbook called Roy's Fish and Seafood: Recipes from the Pacific Rim. Chef Roy Yamaguchi has several restaurants in Hawaii and the mainland, and this book is a nice collection of a few of his Hawaiian seafood recipes. It was hard to choose what I wanted to make! I may continue to explore the recipes throughout our anniversary month. 🙂
We started our meal with a classic ahi poke, one of our favorite Hawaiian dishes. 🙂 I loved the cookbook's idea to serve it in layers in a martini glass, and then garnish with micro-greens, fish eggs, and thin strips of nori seaweed. I dressed the ahi much more lightly than the recipe called for. I used salmon roe instead of tobiko, because it's local and also natural. I also doubled the avocado, since we love avocado. 🙂
Martini of Spicy Tuna Poke
Based on a recipe from Roy's Fish and Seafood cookbook
Serves 2 as an appetizer
6 oz center-cut ahi tuna, cut into ½ inch dice
¼ cup mayonnaise
2 teaspoons sriracha
½ teaspoon fish sauce
A few micro-greens
¼ sheet nori, cut with scissors into thin strips
1 tablespoon salmon roe
1 avocado, cut into ½ inch dice
Juice of ½ lemon
Salt and pepper to taste
Combine mayonnaise, sriracha, and fish sauce. Salt and pepper to taste. Add as much or as little of the mixture to the ahi as you like. Stir to combine, and set aside.
Combine the avocado with the lemon juice and salt and pepper to taste.
Chill 2 martini glasses. Layer a few pieces of avocado in the bottom of the glass, then add a layer of ahi, another of avocado, and finish with a layer of ahi. Top with micro-greens, roe, and nori strips.
We also made fun dragon fruit and lychee sparkling wine cocktails to go with our first course. The dragon fruit added pretty little seeds and a very mild flavor, and the lychee gave the cocktail a nice sweetness. In a blender, I added a couple of slices of dragon fruit with about a ½ cup of lychee juice. Then I strained the mix, added a little to each champagne glass, and topped the juice with sparkling wine.
Stay tuned for the main course in my next entry!
http://nooncafe.com/wp-content/uploads/2015/07/NoonCafe-Logo-with-full-shadow.21.png
0
0
Laura
http://nooncafe.com/wp-content/uploads/2015/07/NoonCafe-Logo-with-full-shadow.21.png
Laura
2014-08-31 17:28:43
2015-07-15 17:28:15
Wedding Anniversary, Part 1 ~ Martini of Spicy Tuna Poke and Dragon Fruit Lychee Sparkling Wine Cocktails