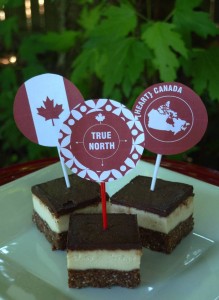 Happy Canada Day! We love our neighbors to the north, and I am always up for an excuse to celebrate another holiday, so I made a batch of Nanaimo bars in honor of this day. 🙂
Nanaimo bars are typically a rich, buttery, and sugary dessert. If you aren't familiar with the confection, here is a little about their history. They are so good, but something to enjoy only every once in awhile. Then I found this recipe that is vegan and almost 100% raw, (except for the maple syrup, which makes them even more Canadian!) They are rich, but also full of healthy, good things. With all of the nutritious ingredients, they are like Canadian energy bars that will help you celebrate all day long! 😉 I'm glad I gave them a try. I hope you will, too. 🙂
The only thing I changed from the original recipe was the amount of maple syrup. I tried using less, and tasted as I went. I ended up using 2 tablespoons less in the custard filling and 3 tablespoons less in the chocolate topping. Just add a little at a time and taste as you go to make them as sweet as you like.
Nanaimo Bars
Based on a recipe from Living Nutrition
Ingredients
For the crust:
1 1/2 cup unsweetened shredded coconut
1 1/2 cup blanched almond flour
1/2 cup coconut oil, melted
3/4 cup coconut sugar
1/4 cup cocoa powder (or raw cacao powder)
10 dates, pitted
A few pinches of sea salt
For the cashew custard filling:
2 cups cashews, (soaked in water for 2 hours or more)
1/2 cup water
1/4 cup + 2 tbsp maple syrup
2 tsp vanilla extract or seeds of ¼ vanilla bean
1/2 cup melted coconut butter or oil
1/4 tsp sea salt
For the chocolate ganache:
1/4 cup + 1 tbsp maple syrup
1/2 cup coconut oil
1/2 cup cocoa powder
1 tsp vanilla extract and a pinch of sea salt
Instructions
For the crust:
Add everything to your food processor, and process for at least 20 seconds, or until it is thoroughly combined into a dough. It should stick together slightly when pinched. If it doesn't, you can add a tablespoon of water or a few more dates to the mix. Press into a 9×9 inch-baking pan. Place the crust in the fridge or freezer to set while you make the cashew custard filling.
For the cashew custard filling:
Add cashews, water, maple syrup, vanilla, coconut oil, and sea salt to a high-speed bender. Blend until smooth and creamy. Pour over the crust and smooth evenly with a spatula. Place in the freezer to set for 2 hours.
To make the chocolate ganache:
Place the maple syrup, coconut oil, cocoa powder, vanilla extract and sea salt in the blender until creamy and emulsified. Spread evenly over the cashew custard filling and chill for another 4 hours.
Cut and serve.
The little Canada Day printouts are from Catch My Party. I couldn't resist. 🙂 They are so cute, and also free!
http://nooncafe.com/wp-content/uploads/2015/07/NoonCafe-Logo-with-full-shadow.21.png
0
0
Laura
http://nooncafe.com/wp-content/uploads/2015/07/NoonCafe-Logo-with-full-shadow.21.png
Laura
2014-07-01 14:46:20
2015-07-15 17:33:25
Happy Canada Day! ~ Nanaimo Bars