We love our neighbors to the north :). We spent our honeymoon on Vancouver Island, and British Columbia is one of our favorite places to visit. It's just a hop, skip and a jump from Seattle, and it's an absolutely beautiful province.
Even though we aren't Canadian, who can't use an extra reason to celebrate? Celebrating non-traditional holidays shakes things up a bit and it's fun!
I think of maple syrup when I think of Canadian cuisine, and British Columbia has some great seafood similar to Seattle, so I decided to make cedar plank roasted salmon with a maple glaze. The wooden plank infuses a subtle smokey flavor into the fish. (Luckily it didn't smoke the house, as well ;). It did make the kitchen smell nice and toasty, though.) I found the recipe at Epicurious.com. I followed it pretty closely, so I just want to pass the recipe onto you since it was so delicious and special!
Cedar Plank Roasted Salmon with a Maple Glaze
1 cup maple syrup
2 tablespoons grated fresh ginger
4 tablespoons lemon juice
3 tablespoons soy sauce
1 1/2 teaspoons minced garlic
An untreated cedar plank (you can find them at specialty cooking stores)
2 1/2-pound center-cut salmon fillet with skin
1 bunch of scallion greens
In a small saucepan, simmer the maple syrup, ginger, 3 tablespoons of lemon juice, soy sauce, garlic, and salt and pepper to taste until it is reduced to about 1 cup. (About 30 minutes). Let cool.
Place the oven rack in the middle position, and preheat your oven to 350. Heat the cedar plank by itself in the middle of the oven after it is up to temperature for about 15 minutes to get it a little toasty.
Pour half of the glaze into a small dish, and keep the other half in the pan. Stir the remaining 1 tablespoon of lemon juice into the sauce on the stove, warm and cover.
Arrange the scallion greens in one layer on the plank.
Put the salmon, skin side down, on the scallion greens and brush with the remaining glaze in the small dish. Season the salmon with salt and pepper and roast until just cooked through, about 35 minutes.
Cut the salmon crosswise into 6 pieces and drizzle with the warm sauce.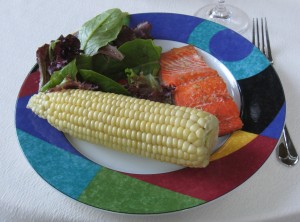 Happy Canada Day to all…Whether you live in Canada or just enjoy their beautiful country :).
http://nooncafe.com/wp-content/uploads/2015/07/NoonCafe-Logo-with-full-shadow.21.png
0
0
Laura
http://nooncafe.com/wp-content/uploads/2015/07/NoonCafe-Logo-with-full-shadow.21.png
Laura
2011-07-01 22:38:19
2015-07-21 14:59:11
It's Canada Day! ~ Cedar Plank Roasted Salmon with a Maple Glaze