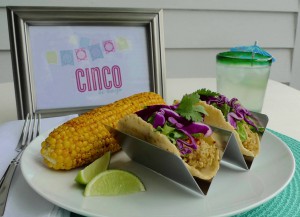 Happy Cinco de Mayo! I love to celebrate this festive Mexican holiday every year. It gives me an excuse to make some delicious Mexican food, have a margarita, and imagine I'm on a beach in Mexico watching the sunset. Ahh….
Oh, right, I got a little distracted…back to the kitchen! 😉 This year I decided to make homemade corn tortillas for baked fish tacos. There is really nothing like fresh tortillas, and they aren't very difficult to make. I think they are well worth the effort since I've never had a premade tortilla that even comes close to the flavor and texture of homemade. I hope you'll give it a try!
Homemade Corn Tortillas
Based on a recipe from the New York Times
1 1/2 cups masa harina
1/4 teaspoon kosher salt
2 tablespoons high heat cooking oil, such as safflower
1 cup hot water
Stir the masa and salt in a medium bowl, and then stir in the oil until incorporated. Slowly stream the water into the masa mixture while continuing to stir. Bring the dough together with your hands until it is in the shape of a ball. Knead the dough in the bowl for a couple of minutes until it is smooth and cohesive. Cover the bowl in plastic wrap and let the dough rest for at least 30 minutes at room temperature.
Cut a gallon-sized zip lock bag up both sides, so it is one long piece of plastic with the zip portion on the top and bottom. Lay the plastic on a tortilla press so the seam is where the press folds down. (It will cover the top and bottom of the press so nothing sticks.)
Preheat a large skillet over high heat.
Break off small pieces of dough and roll until they are approximately the size and shape of golf balls. Place each ball in the tortilla press covered in the plastic bag, and press until flat.
Cook the tortillas in the skillet (without added oil) until they have small brown spots. Flip and cook the other side in the same way.
Wrap the tortillas in a kitchen towel to keep them warm. They are best served immediately, but they will keep in the refrigerator for a couple of days in a sealed container.
The cute little Cinco de Mayo sign is from Squareview Studios. It was the perfect added touch to dress up our fiesta!
http://nooncafe.com/wp-content/uploads/2015/07/NoonCafe-Logo-with-full-shadow.21.png
0
0
Laura
http://nooncafe.com/wp-content/uploads/2015/07/NoonCafe-Logo-with-full-shadow.21.png
Laura
2016-05-05 20:28:07
2016-06-08 17:35:42
Cinco de Mayo Celebration ~ Homemade Corn Tortillas