Nothing says autumn in Seattle more to me than a warm pumpkin spice latte. I got my first cup of the season and sipped it by the lake under the colorful autumn leaves. Ahh…
To recreate the flavors at home, I made a batch of pumpkin spice latte muffins. 🙂 They are filled with a good bit of pumpkin puree, warm spices, and a generous amount of espresso. A perfect breakfast treat to start any autumn day.
The cute (and free!) printables are from a website called Weigh to Maintain. They were actually meant for another purpose, but I thought they were a perfect way to dress up these little muffins.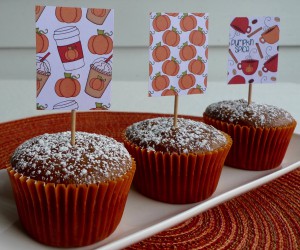 Pumpkin Spice Latte Muffins
Makes about 16 muffins
1 3/4 cups whole-wheat pastry flour
2 teaspoons baking powder
5 teaspoons instant espresso powder
1 1/2 teaspoons pumpkin pie spice
Pinch of kosher salt
2 large eggs
1 cup pumpkin puree
1/4 cup light olive oil
1/2 cup granulated sugar
1/2 cup lightly packed light brown sugar
2/3 cup skim milk
1/2 teaspoon vanilla
Preheat your oven to 350 F.
Line a muffin tin with paper liners.
In a large bowl, whisk all of the dry ingredients, from the flour through the salt.
In a medium bowl, whisk all of the wet ingredients, from the eggs to the vanilla.
Then add the wet mixture to the dry mixture, and whisk until just combined. Take care not to mix the batter too much at this point.
Fill your paper liners about 3/4 full. Bake the muffins for about 22 minutes, or until a toothpick inserted into one of the muffins comes out clean.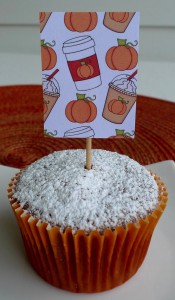 http://nooncafe.com/wp-content/uploads/2015/07/NoonCafe-Logo-with-full-shadow.21.png
0
0
Laura
http://nooncafe.com/wp-content/uploads/2015/07/NoonCafe-Logo-with-full-shadow.21.png
Laura
2016-11-01 14:52:39
2016-11-06 14:53:40
Cozy Autumn Treat ~ Pumpkin Spice Latte Muffins