Tonight is a blustery and rainy night in Seattle. Perfect for a bowl of hot soup and warm pumpkin dinner rolls!
I transformed my recipe for whole-wheat dinner rolls with dill to make these pumpkin rolls. I love creative and fun pumpkin recipes at this time of the year, so when I discovered different versions of this idea online, I knew I wanted to try a batch with my own recipe. I think they are almost too cute to eat…*Almost.* 😉 They are savory, but they have a hint of warm pumpkin spice.
Pumpkin Whole-Wheat Dinner Rolls
Makes 8 dinner rolls
1/4 cup warm skim milk (about 80 degrees F.)
1/2 tablespoon dry active yeast
1 teaspoon granulated sugar
1/4 teaspoon kosher salt
1 teaspoon pumpkin pie spice
2 tablespoons unsalted butter, melted
1 large egg
1/2 cup pumpkin puree
1 3/4 cups white whole-wheat flour
All-purpose flour for dusting work surface
Approximately 1 tablespoon beaten egg
4 cinnamon sticks broken in half to make 8 pieces
Place a piece of parchment paper on a half sheet pan, and spray the parchment with cooking spray. Make sure you have enough room in your refrigerator for the sheet pan where the rolls will rest overnight.
In the bowl of a stand mixer with a dough hook attachment, add the milk. Sprinkle the yeast over the milk. Let stand until the yeast and milk mixture looks a little frothy, about 5 minutes. Next, add the ingredients from the sugar through the whole-wheat flour to the bowl. Let the mixer knead the dough for about 10 minutes. The dough will be elastic and sticky.
Remove the dough from the bowl onto a clean work surface that is lightly dusted with all-purpose flour. Divide the dough into 8 equal pieces. Sprinkle a little extra all-purpose flour over the dough and on your hands if the dough sticks.
Form the rolls into your desired shape. To make the pumpkin shaped rolls, form each piece into a ball. Gently press each ball into a disc. With a very sharp knife, cut 8 slits all around the sides of each disc, taking care to leave the center intact. Press a small indentation into the center of each roll. Place the rolls on the prepared baking sheet. Take care to leave enough space between the rolls to allow them to rise without touching each other.
Spray the tops of the rolls with nonstick cooking spray and cover with plastic wrap. Let the rolls rest in the refrigerator overnight.
The next day, remove the rolls from the refrigerator. Let the dough rise in a warm place for about 90 minutes, or until close to doubled in size.
Preheat your oven to 350 F. Brush the rolls with the beaten egg. Bake for about 25 minutes, or until the rolls are golden brown and cooked through. Push the cinnamon sticks into the center of each roll to make the "stems."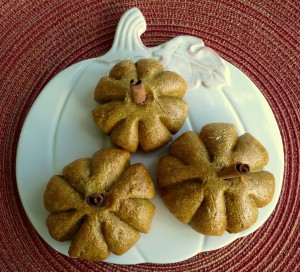 http://nooncafe.com/wp-content/uploads/2015/07/NoonCafe-Logo-with-full-shadow.21.png
0
0
Laura
http://nooncafe.com/wp-content/uploads/2015/07/NoonCafe-Logo-with-full-shadow.21.png
Laura
2016-10-15 19:34:37
2017-04-18 19:21:04
Pumpkin Season ~ Pumpkin Whole-Wheat Dinner Rolls