What's better for Easter brunch than Scotch eggs? Two different kinds of Scotch eggs! 😉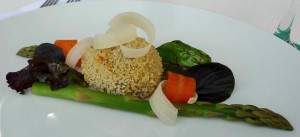 In addition to crab Scotch eggs, I made one more version with cute little quail eggs encased in smoked halibut mashed potatoes. It was a festive little dish that was a perfect accompaniment to our Easter brunch.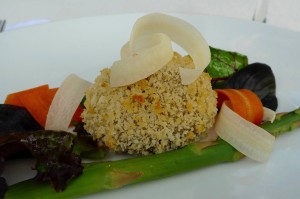 Quail Scotch Eggs with Smoked Halibut Mashed Potatoes
Inspired by a recipe from BBC Good Food
1 large russet potato
Skim milk, to taste
Smoked halibut, to taste
Salt and pepper, to taste
10 quail eggs
1 cup (approximately) all-purpose flour
2 beaten eggs
1 cup (approximately) panko
Peel and coarsely chop the potato. Add to a medium saucepan. Fill the pan with cold water so the potatoes are covered. Bring the water to a boil. Cook the potatoes until they are tender. Drain the water. Mash the potatoes, adding the milk a little at a time to thin them out into a thick and creamy texture that will hold up around the eggs. Flake the smoked fish with your fingers and add it to the potatoes. Mix well. Season the potatoes with salt and pepper.
In the meantime, fill a medium saucepan with water, and bring to a boil. Once boiling, adjust the heat so the water stays at a gentle boil. Add the quail eggs. Cook for 3 minutes. Remove the eggs immediately after 3 minutes and run under cold water to stop the cooking. Carefully remove the shells.
Gently press and shape a couple of tablespoons of the fish and potato mixture around each egg. The result should be in the shape of an egg.
Preheat oven to 475 F. Line a sheet pan with parchment paper.
Add the flour, beaten eggs, and panko to three separate shallow bowls.
Roll the potato-covered eggs in the flour, making sure they are completely coated. Gently knock off the excess flour. Then roll the eggs into the beaten egg until they are fully coated. Let the excess beaten egg drip off. Finally, roll the eggs in the panko. Press gently to make sure the crumbs stick.
Lay the panko-covered eggs slightly apart on the prepared baking sheet. Spray the tops of the eggs lightly with cooking spray to help them brown. Bake until lightly golden brown, about 20 minutes. Serve immediately.
PS. I made mine with smoked halibut, but I think hot smoked salmon would also be delicious.
PPS. Here's sending you one final happy Easter wish!!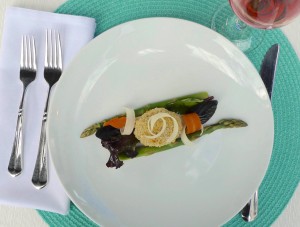 http://nooncafe.com/wp-content/uploads/2015/07/NoonCafe-Logo-with-full-shadow.21.png
0
0
Laura
http://nooncafe.com/wp-content/uploads/2015/07/NoonCafe-Logo-with-full-shadow.21.png
Laura
2016-03-27 23:47:24
2016-03-31 19:34:47
Easter Brunch Addition ~ Quail Scotch Eggs with Smoked Halibut Mashed Potatoes