Happy Easter!
This year I made a couple different Scotch egg recipes to get into the spirit of the holiday. 🙂 A traditional Scotch egg is a boiled egg surrounded by pork sausage, breaded, and deep-fried. To make a lighter and more Pacific Northwestern version that also felt like a dish worthy of Easter Sunday, I made crab Scotch eggs. 🙂 Yum! My favorite crab cake recipe transformed (and got a little British!) to make this special dish. I made my Scotch eggs hard-boiled, but I'm sure the molten center of a soft-boiled egg would also be lovely.
Crab Scotch Eggs
6 large eggs
For the crab cake mixture:
1 pound cooked and shelled Dungeness crab meat
1/4 cup finely diced celery
2 tablespoons minced fresh chives
2 tablespoons mayonnaise
1 large egg
2 teaspoons Dijon mustard
1/4 teaspoon hot sauce
1/4 cup panko
For the coating:
1 cup (approximately) all-purpose flour
2 beaten eggs
1 cup (approximately) panko
Preheat your oven to 475 F. Line a sheet pan with parchment paper.
Gently place the eggs in a medium saucepan and cover with cold water. Heat the pan over high heat. Once the water starts to boil, cook the eggs for 5 minutes. (Turn the heat down accordingly so the eggs don't bounce around too much in the boiling water, but make sure the water continues to boil gently.) Remove the eggs immediately after 5 minutes and submerge in an ice water bath to stop the cooking. Peel the eggs. Set aside.
For the crab cake mixture:
Make sure your crab doesn't have any hidden bits of shell mixed in before you begin. In a large bowl, mix the celery, chives, mayonnaise, egg, mustard, and hot sauce with a fork. Then add the crab and panko. Stir gently until everything is well blended.
Shape and gently press the crab mixture around the boiled eggs until they are completely encased.
For the coating:
Add the flour, beaten eggs, and panko to three separate shallow bowls.
Once the boiled eggs are coated in the crab cake mixture, roll them in the flour, making sure they are completely coated. Gently knock off the excess flour. Then roll the eggs into the beaten egg until they are fully coated. Let the excess beaten egg drip off. Finally, roll the eggs in the panko. Press gently to make sure the crumbs stick.
Lay the panko-covered eggs slightly apart on the prepared baking sheet. Bake until lightly golden brown, about 25 minutes. Serve immediately.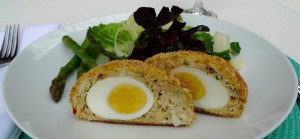 http://nooncafe.com/wp-content/uploads/2015/07/NoonCafe-Logo-with-full-shadow.21.png
0
0
Laura
http://nooncafe.com/wp-content/uploads/2015/07/NoonCafe-Logo-with-full-shadow.21.png
Laura
2016-03-27 21:48:26
2016-03-28 22:07:40
Easter Brunch ~ Crab Scotch Eggs