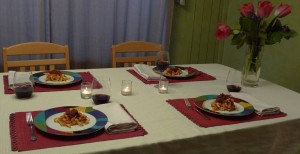 The flavors of this dish will transport you to the beautiful Tuscan countryside. You can almost see the rolling hills from your spot at the dinner table as you eat al fresco under the grape arbor. 😉
This sauce is perfect for a dinner party since it's a crowd pleaser, and it doesn't need a lot of attention on the stove once everything is combined. The house will smell delicious when your guests arrive, and the sauce can simmer on its own while you chat with your company.
The original recipe was from a homemade pasta cooking class at Sur La Table. To make the dish a little leaner than the one from class, I used olive oil rather than butter, and I chose lean ground beef and chicken sausage rather than ground chuck and pork sausage.
Tuscan Sausage and Caramelized Onion Ragù
Based on a recipe from a cooking class at Sur La Table
Yield: 8 servings
For sauce:
2 tablespoons extra-virgin olive oil
1 large yellow onion, peeled and cut into 1/4-inch dice
1 large carrot, peeled and cut into 1/4-inch dice
2 large celery ribs, trimmed and cut into 1/4-inch dice
2 tablespoons tomato paste
1/2 pound lean ground beef
1 pound sweet Italian chicken sausage, casings removed
2 (28 ounce) cans San Marzano whole tomatoes
1 cup dry red wine
2 bay leaves
Kosher salt and freshly ground pepper, to taste
For onions:
3 tablespoons extra-virgin olive oil
2 large yellow onions, peeled and thinly sliced
2 tablespoons aged balsamic vinegar
Sauce:
In a large pot or large, wide skillet, add oil and heat over medium-high heat. Add onion, carrot, and celery, stirring well to coat with oil. Cook, stirring occasionally, until vegetables turn golden brown, about 12 to 14 minutes. Add tomato paste and cook, stirring occasionally, until paste turns a darker red, about 2 minutes. Add sausage and beef, stirring occasionally to break up large clumps, and cook until meat begins to brown, about 8 to 10 minutes. Add tomatoes, wine, and bay leaves, stirring well to combine. Reduce heat to medium and simmer sauce until thickened and reduced, about 40 to 50 minutes. Taste and season with salt and pepper if necessary. Keep warm.
Onions:
While sauce simmers, heat oil in a large skillet over medium-low heat. Add onions and stir to coat. Cook, stirring occasionally, until onions are deep golden brown, about 20 to 25 minutes. Add balsamic vinegar, stirring well to combine.
Just before serving, stir onions into the sauce. Taste and season as needed with salt and pepper. Use immediately with fresh pasta, or allow to cool and refrigerate up to 3 days. Any unused portions can be packed in an airtight container and frozen up to 1 month.
To make this meal even more authentic, make homemade fettuccine with your guests! It's a fun and interactive project to do together, which is a nice icebreaker. The recipe for fresh pasta dough can be found here.
http://nooncafe.com/wp-content/uploads/2015/07/NoonCafe-Logo-with-full-shadow.21.png
0
0
Laura
http://nooncafe.com/wp-content/uploads/2015/07/NoonCafe-Logo-with-full-shadow.21.png
Laura
2015-03-22 15:50:54
2015-07-15 14:03:06
Family Dinner ~ Tuscan Sausage and Caramelized Onion Ragù