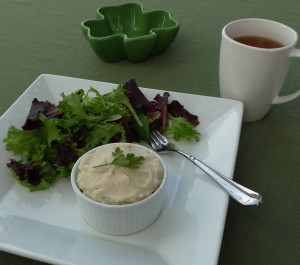 St. Patrick's Day is one of my favorite holidays, and I love to make Irish recipes every year to get into the spirit. Cottage pie is a classic Irish dish, likely dating back as far as 1791. If you change the ingredients slightly, it is a different dish altogether: Use lamb, and it is a shepherd's pie, sprinkle bread crumbs on top, and it is a Cumberland pie, and if you use turkey and ham, it is a St. Stephen's Day pie. Those could be fun alternatives to try later to mix things up. It is also a simple and quick weeknight dinner, which is perfect since St. Patrick's Day falls on a Tuesday this year. You can make it in one large casserole dish, or individual ramekins are very cute. The mash on top can be either traditional mashed potatoes, or better yet, steamed and puréed cauliflower.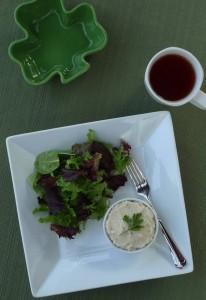 Cottage Pie
Based on a recipe from Bon Appétit magazine
For topping:
1 head of cauliflower, cut into florets
3 tablespoons skim milk, or more for a smoother consistency
Earth Balance to taste
Salt and pepper to taste
For base:
1/2 pound white mushrooms, sliced
1 tablespoon high heat oil, such as safflower or sunflower
1 pound leanest ground beef
1 small onion, chopped
4 garlic cloves, minced
2 tablespoons all-purpose flour
1 cup beef stock
1/2 cup chopped fresh flat leaf parsley
1 large carrot, chopped finely
1 tablespoon Worcestershire sauce
Salt and pepper to taste
Steam cauliflower florets in a medium saucepot with the lid on until tender. With a slotted spoon, transfer the cauliflower into a food processor. Add milk and blend until it is a smooth purée. Add Earth Balance, salt, and pepper to taste, and pulse to combine.
Preheat a large nonstick skillet over medium-high heat. Add the oil, heat until shimmering, and then add mushrooms. Cook until tender, about 7 minutes. Transfer mushrooms to a bowl. Add beef, onion, and garlic to same skillet and cook over medium-high heat until beef is brown, breaking up with spoon, about 8 minutes. Add flour and stir 2 minutes. Add mushrooms, carrot, stock, parsley, and Worcestershire. Simmer about 4 minutes, or until the stock is almost evaporated, stirring occasionally.
Spoon the beef mixture into an 8-inch round baking dish or individual ramekins. Spoon the cauliflower purée over the top, and serve immediately.
http://nooncafe.com/wp-content/uploads/2015/07/NoonCafe-Logo-with-full-shadow.21.png
0
0
Laura
http://nooncafe.com/wp-content/uploads/2015/07/NoonCafe-Logo-with-full-shadow.21.png
Laura
2015-03-08 21:06:01
2015-07-15 14:02:20
The time of the year for all things Irish ~ Individual Cottage Pies