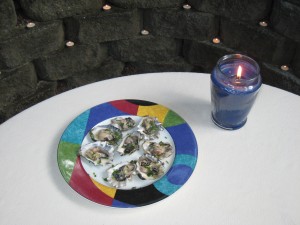 Happy birthday USA!
Today is all about celebrating our country, and this year I decided to do that by celebrating our little corner of the country with some of the best treats that the Northwest has to offer.
We started with a plate of Penn Cove Select oysters on the half shell with a watermelon, champagne and cucumber mignonette. I think of sparkling wine when I think of the Fourth, since the sparkles remind me of fireworks :). The watermelon and cucumber also added a summery sweet freshness to the oysters' salty brininess. I must admit, oysters are something I am just now beginning to enjoy. I've tried them in the past, but they were never my favorite choices. I liked this mignonette so much, that I had three of them! The most important thing is to get live oysters from a fishmonger that you trust. The recipe is based on one from Oprah.com, and I'd like to pass it along to you.
Fresh Oysters on the Half Shell with a Watermelon, Champagne and Cucumber Mignonette
12 shucked fresh oysters
1/4 cup watermelon juice
1/4 cup champagne vinegar
1/2 cup champagne
1/2 tablespoon prepared horseradish
2 tablespoons minced English cucumber
2 tablespoons minced shallots
Freshly ground black pepper to taste
1/2 tablespoon finely chopped tarragon for garnish
To make the watermelon juice, place 1 inch pieces of melon into a food processor, and process until pureed. Place a coffee filter in a strainer, and place the strainer over a large cup. Pour the melon puree into the strainer, and let it drain into the cup. Discard the pulp.
Combine the watermelon juice, champagne vinegar, champagne, horseradish, cucumber, shallots and black pepper in a bowl. Mix well.
Serve about a teaspoon of the mignonette on top of each oyster. Garnish with the chopped tarragon. Serve immediately.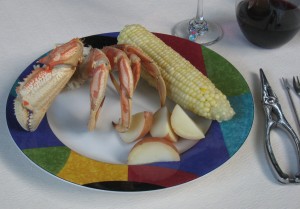 For the main course, we had a Dungeness crab boil…A classic American summer celebration dish with a Northwest twist. It was super easy and delicious. I always ask my fishmonger to dispatch and clean the crabs when I buy them. They are much sweeter if they are cleaned before they are cooked. For two crabs (about 2 lbs each), steam for about 17 minutes until they are cooked through. At the same time, in a separate pot, boil the potatoes and corn. That's it! 🙂 It couldn't be easier.
Dessert was even easier and equally as delicious. We had a big bowl of Rainier cherries. They have a very short season, so they always feel like a special treat. They don't need any help from a recipe :).
We paired dinner with a Chandon Liberty Sparkle cocktail from DomaineChandon.com. The recipe is basically the same as the Pomegranate Fizzes that I wrote about earlier this year, but with an added patriotic name for a red sparkling cocktail! It's just a splash of pomegranate juice and a splash of Grand Marnier topped with sparkling wine.
I hope you have a safe and happy Fourth of July!
http://nooncafe.com/wp-content/uploads/2015/07/NoonCafe-Logo-with-full-shadow.21.png
0
0
Laura
http://nooncafe.com/wp-content/uploads/2015/07/NoonCafe-Logo-with-full-shadow.21.png
Laura
2011-07-04 21:33:50
2015-07-21 14:58:08
Happy Birthday USA ~ Fresh Oysters on the Half Shell with a Watermelon, Champagne and Cucumber Mignonette