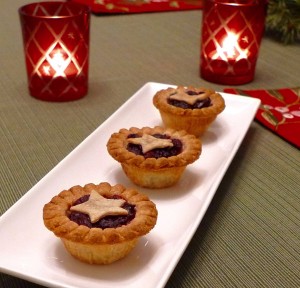 Happy Christmas! I hope you had a lovely Christmas Day. 🙂
These sweet little star-topped mince pies were the grand finale of my Christmas dinner this year. They were the perfect finish, and just the right size after a beef Wellington feast.
I used Nigella Lawson's cranberry mincemeat recipe with a few small changes. I replaced the brown sugar with a diced apple and a little extra honey, I used two oranges rather than one, and I added a dash more of brandy, since it was Christmas after all! 😉
For the crust, I used store-bought pastry cups, but I also made my own pastry. I could have just used the ready made cups, but I really wanted to make stars for the top. 🙂 Then I had a lot of extra dough after making the stars, so I made some homemade shells, as well. They weren't as fancy as the ones I bought, but I actually preferred the texture and taste. Using a food processor, the pastry is very easy to make…It literally only takes 5 minutes, so I figured I could fit that into my holiday schedule. 😉 This is the same short crust pastry dough I used for my meat pies this September, and it worked as beautifully for sweet as it did for savory.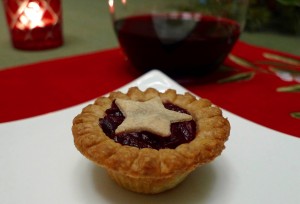 Star-Topped Mince Pies
Cranberry Mincemeat
Recipe based on Nigella Lawson's cranberry studded mincemeat
¼ cup port
½ apple, peeled and diced
3 cups fresh or frozen cranberries
1 teaspoon ground cinnamon
1 teaspoon ground ginger
½ teaspoon ground cloves
½ cup currants
½ cup raisins
¼ cup dried cranberries
2 clementine oranges, zested and juiced
3 tablespoons brandy
3 drops almond extract
½ teaspoon vanilla extract
4 tablespoons honey
In a medium saucepan over medium heat, add the port, apple, fresh (or frozen) cranberries, and spices. Cook until the cranberries begin to bubble and pop. Then add the currants, raisins, dried cranberries, and the orange zest and juice. Bring the mixture to a simmer. Cook for about 20 minutes, until the fruit has absorbed most of the liquid. If you still have many whole cranberries, you can squish them with your spoon to help them incorporate into the mixture. Remove the pan from the heat. Then add the brandy, extracts, and honey. Stir until everything is well incorporated.
Let the mincemeat cool before using in your pies.
Whole-Wheat Short Crust Pastry
Based on a recipe from BBC
125 grams ivory whole-wheat flour
Pinch of salt
55 grams cold unsalted butter, cubed
Approximately 5 tablespoons ice water
With a food processor, pulse the flour, salt, and butter until the butter is the size of small peas. Gradually add the water until the mixture comes together. Add only enough water to combine everything. You may not need a full 5 tablespoons. Form the dough into a disc, and wrap in plastic wrap. Refrigerate at least 15 minutes before rolling it out. It also freezes well. Just take it out of the freezer and refrigerate the night before you will need it.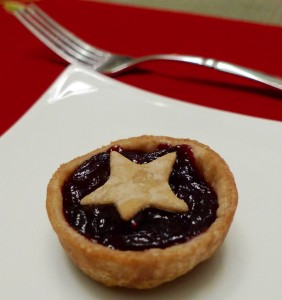 To assemble, grease a mini muffin pan very well, and set aside.
Preheat your oven to 425 F.
On a floured surface, roll out the pastry into a very thin sheet. Cut out circles for the crust and stars for the top. Carefully fill the muffin pan with the crusts, fill each crust with the cooled mincemeat, and top with a pastry star. Bake for about 10 minutes, or until the pastry is golden, and the bottom crusts are baked through. Let cool before serving.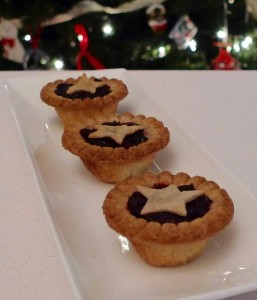 http://nooncafe.com/wp-content/uploads/2015/07/NoonCafe-Logo-with-full-shadow.21.png
0
0
Laura
http://nooncafe.com/wp-content/uploads/2015/07/NoonCafe-Logo-with-full-shadow.21.png
Laura
2015-12-27 19:03:58
2016-01-15 19:18:58
Happy Christmas! ~ Star-Topped Mince Pies