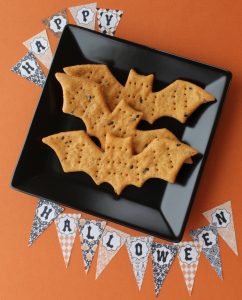 I hope you have a happy Halloween!
I'm all about the treats on Halloween, but I often like to go for savory treats over sweet. These crackers are perfect for Halloween night snacking. 🙂 The cheddar and paprika not only add orange color, but they add a touch of flavor. And the poppy seeds and sesame seeds give added crunch and texture while adding pretty black speckles for the holiday.
The cute little decorations are from a website called Yesterday on Tuesday. They are free to print for personal use, and absolutely adorable! The design is meant to be used as a banner, but I just made them into little flags to add a festive touch. I found many printable treasures over there for decorating. I hope you'll check out her website. 🙂
Orange and Black Halloween Crackers
1/2 cup white whole-wheat flour
1/2 cup all-purpose flour, plus more for rolling
1/2 teaspoon kosher salt, plus more for (optionally) sprinkling the tops of the crackers
1/2 teaspoon baking powder
1 teaspoon paprika
1 1/2 tablespoons light olive oil
1/4 cup + 2 tablespoons water
1/4 cup shredded extra sharp cheddar cheese, lightly packed
1/2 teaspoon poppy seeds
1 teaspoon black sesame seeds
Preheat oven to 375 F. Line three baking sheets with parchment paper.
In the bowl of a food processor, process the flours, salt, baking powder, and paprika until combined. Add the olive oil, water, and cheddar, and pulse until combined. Take the dough out of the processor, and knead in the poppy seeds and the sesame seeds with your hands until everything is evenly incorporated and it becomes a cohesive ball. Cover the dough with plastic wrap and let rest for at least 15 minutes.
Divide the dough into 3 portions. Lightly dust a clean work surface and a rolling pin with all-purpose flour. Roll out one portion of the dough until it is about 1/8-inch thick. Dust with a little extra flour if it sticks to the work surface or the rolling pin.
Cut out the crackers into desired shapes. (I used a cookie cutter in the shape of a bat for my crackers.) After I used my cookie cutter, I cut the remaining odd pieces into random shapes as a snack for the cook! Repeat with the remaining two portions of dough.
Place the crackers on the prepared baking sheets. If using, sprinkle with a little kosher salt on top. Dock the top of the crackers with a fork to ensure they don't rise and bubble very much as they bake. Bake each tray individually for about 12 minutes, turning once, until the crackers begin to crisp. They will still have a little chew at this point, so if you would like your crackers to be more crispy, bake a little longer.
http://nooncafe.com/wp-content/uploads/2015/07/NoonCafe-Logo-with-full-shadow.21.png
0
0
Laura
http://nooncafe.com/wp-content/uploads/2015/07/NoonCafe-Logo-with-full-shadow.21.png
Laura
2018-10-31 20:01:09
2018-11-16 20:57:59
Happy Halloween ~ Orange and Black Halloween Crackers