Happy Thanksgiving!
This stuffing recipe has become a Thanksgiving standard in my family. 🙂 It adds a little spice and a little Southwestern touch to the dinner! I wrote about this recipe in Noon Café's first year, and I thought I would repost it this year since it still holds up as a delicious addition to my Thanksgiving table. 🙂
Wild Rice and Goat Cheese Stuffing with Chorizo
Based on a recipe from Chef Bobby Flay
1 1/2 cups wild rice
5 cups water
Salt to taste
1/2 cup finely ground chorizo (Mexican)
1 finely diced large onion
1 tablespoon minced garlic
2 finely chopped carrots
3 finely chopped celery stalks
3/4 pound cubed stale hearty white bread
6 ounces goat cheese
2 tablespoons chopped fresh flat leaf parsley
1 tablespoon chopped fresh thyme
1 1/2 cups low sodium free-range chicken stock
Boil the rice, water, and a little salt to taste in a medium saucepan until the grains open and the rice is tender. Drain. (This can be done a day ahead if you desire.)  Cook the chorizo in a large saucepan over medium heat. Pour the chorizo over a bowl lined with a paper towel to drain the excess fat. In the same pan, add the onion, garlic, carrots, and celery and cook until the onion is tender but not browned. Add the rice, chorizo, bread, cheese, parsley, thyme, and stock and combine it all together. Season to taste with a little salt and pepper. Transfer to a baking dish and bake at 350, uncovered, until golden brown on top, about 25 to 30 minutes.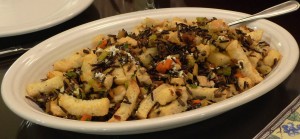 http://nooncafe.com/wp-content/uploads/2015/07/NoonCafe-Logo-with-full-shadow.21.png
0
0
Laura
http://nooncafe.com/wp-content/uploads/2015/07/NoonCafe-Logo-with-full-shadow.21.png
Laura
2014-11-27 14:51:47
2015-07-15 14:16:37
Happy Thanksgiving ~ Wild Rice and Goat Cheese Stuffing with Chorizo