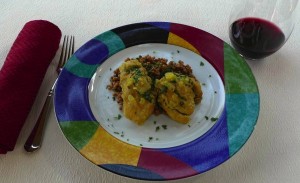 Turkey doesn't need to get all of the attention this month. 😉 I thought I would write about one of my favorite chicken dishes, as well. It is so flavorful and moist that it literally falls apart with a fork. This recipe works for a special occasion, but it is easy enough for a weeknight. That's the kind of recipe I am most thankful for in this busy month of Thanksgiving. 🙂
Moroccan Chicken Tagine
Based on a recipe from Sur La Table's cooking classes
Marinade:
1 medium onion, cut into ½ inch dice
1 medium garlic clove, minced
2 teaspoons fresh ginger, minced
1 tablespoon cilantro, minced
Pinch of saffron threads
1 tablespoon freshly squeezed lemon juice
1 teaspoon kosher salt
2 tablespoons olive oil
Freshly ground black pepper, to taste
10 (4 ounce) chicken thighs, boneless and skinless
1 tablespoon olive oil
1 cup water
2 teaspoons fresh thyme, minced
In a medium bowl, mix all of the ingredients for the marinade together. Arrange the chicken in a shallow baking dish, and pour the marinade over the top, mixing so all of the chicken is covered on all sides. Cover and refrigerate 1 hour.
Preheat a large heavy Dutch oven over medium high heat. Add remaining oil. Remove chicken from marinade (reserving the remaining marinade) and sear. Pour the remaining marinade onto the seared chicken, and add the water. Cook until the liquid boils, reduce heat, and simmer about 40 minutes, until the chicken is tender and nearly falling apart. Add the thyme.
Serve with couscous.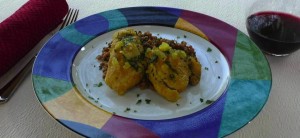 Make this dish and be virtually transported to a far off land in the desert. 🙂 Ahh…Sunshine and palm trees.
http://nooncafe.com/wp-content/uploads/2015/07/NoonCafe-Logo-with-full-shadow.21.png
0
0
Laura
http://nooncafe.com/wp-content/uploads/2015/07/NoonCafe-Logo-with-full-shadow.21.png
Laura
2014-11-24 13:42:54
2015-07-15 14:17:38
This month isn't *all* about turkey ~ Moroccan Chicken Tagine