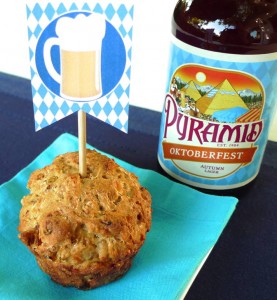 Happy Oktoberfest!
Even though I am typically a wine kind of girl, when Oktoberfest rolls around, I love to try the autumn beer at the market. Many of our local breweries make special beer just for the season. I picked up one from Pyramid Brewery, and instead of just drinking it, I decided to use it in some muffins. 🙂 Then I took these muffins one step further…I wanted to add one more Oktoberfest flavor, so I added a little sauerkraut! I know it sounds a little odd, but it actually added a lot of moisture and flavor to the muffins without making them taste like pickles. These go well with chili, or they are great just as a snack (with a little beer of course! 😉 )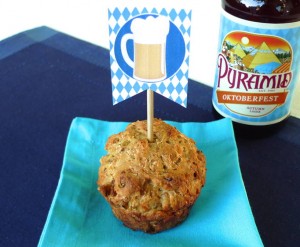 Beer, Sauerkraut, and Cheese Muffins
Makes 12
1 tablespoon olive oil
1/2 yellow onion, minced
3 cups ivory whole-wheat flour
1 tablespoon granulated sugar
2 teaspoons baking powder
1 teaspoon kosher salt
1/4 teaspoon freshly ground black pepper
4 ounces sharp cheddar cheese, shredded
1/2 cup sauerkraut, squeezed to remove excess brine and finely chopped
12 ounces Oktoberfest beer
1/4 cup skim milk
Cooking spray
Preheat your oven to 375.
Heat a small sauté pan over medium heat. Add the oil and onion, and cook until the onion is slightly caramelized. Set aside.
In a medium bowl, whisk together the flour, sugar, baking powder, salt, and pepper. Then stir in the caramelized onions, cheese, sauerkraut, beer, and milk. You may need to work it with your hands to make sure everything is well combined because the batter is very thick.
Spray a muffin tin with cooking spray. Divide the batter evenly into 12 muffins.
Bake for about 35 minutes, until cooked through but still moist.
The cute little flags came from PreppingParties.com. I actually used the artwork for the party banner, but printed it very small to make muffin flags instead. There are a lot of other sweet Oktoberfest printables in the same place that you might want to check out this season. 🙂
Prost!
http://nooncafe.com/wp-content/uploads/2015/07/NoonCafe-Logo-with-full-shadow.21.png
0
0
Laura
http://nooncafe.com/wp-content/uploads/2015/07/NoonCafe-Logo-with-full-shadow.21.png
Laura
2015-09-29 15:08:05
2015-09-30 20:29:39
It's Oktoberfest! ~ Beer, Sauerkraut, and Cheese Muffins