I'm enjoying every last morsel of summer. 🙂 I hope you are too! This dessert is my last one of the year using summer's fruits. It's a perfect dessert to throw together using what you have on hand, because when you want to hang out at the beach or the lake, you don't want to stop for groceries! 😉 I am calling it a Summer Vacation Crumble since it is also a good dessert to make if you are on vacation where you don't have your usual kitchen staples for baking, like flour or sugar.
This recipe is more of an inspiration rather than a hard and fast recipe. I think it would even be great with different fruits like blackberries or plums. Use whatever store-bought cookies sound good to you. I have used almond cookies and snickerdoodles, but I think ginger snaps and sugar cookies would also be delicious.
Summer Vacation Crumble
Serves 6
4 ripe peaches, peeled and sliced
½ pint blueberries
Enough maple syrup to sweeten the fruit to your liking
2 handfuls of all-natural store-bought cookies, crumbled (almond, snickerdoodle, or whatever sounds good to you!)
2 tablespoons cold butter, cut into pieces
Preheat oven to 425.
Mix the peaches and blueberries together with the maple syrup. Transfer the mixture into one large baking dish or 6 small ones.
Work the cookie crumbs and the butter with your fingers until incorporated.
Evenly top the fruit with the cookie mixture.
Bake until the top is golden, and the fruit is bubbly and softened. Check the crumble after 10 minutes, and bake longer if needed. The individual ones will take less time to bake than one large one, and the time also depends on the ripeness of the fruit.
The cute little flags came from SmartSchoolHouse.com. I thought they added the perfect touch to the summery crumbles!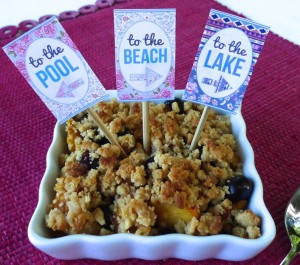 http://nooncafe.com/wp-content/uploads/2015/07/NoonCafe-Logo-with-full-shadow.21.png
0
0
Laura
http://nooncafe.com/wp-content/uploads/2015/07/NoonCafe-Logo-with-full-shadow.21.png
Laura
2015-09-21 20:19:57
2015-09-22 20:22:23
Savoring the End of Summer ~ Summer Vacation Crumble