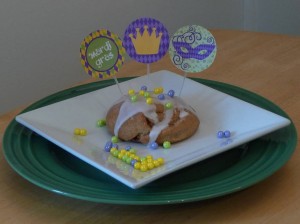 Happy Mardi Gras!
I couldn't think of anything better to celebrate the holiday than king cake. I love the story and history surrounding the cake. In Louisiana, they decorate the top with the colors of Mardi Gras – purple, yellow, and green. They also hide a small plastic baby or a trinket inside. I made mini cakes this year based on a recipe from AllRecipes.com. I substituted all of the butter with Earth Balance, and replaced half of the all-purpose flour with whole-wheat flour. The result was nutty and delicious! With the glaze, they make a nice dessert, but without the glaze, they are perfect for breakfast. 🙂
Mardi Gras King Cake
Based on a recipe from AllRecipes.com
Pastry:
½ cup + 2 tablespoons non-fat milk
2 tablespoons Earth Balance
1 (.25 ounce) package active dry yeast
1/3 cup warm water (110 degrees F/45
degrees C)
1/4 cup white sugar
1 egg
1/4 teaspoon freshly grated nutmeg
1 ¼ cups + 2 tablespoons all-purpose flour
1 ¼ cups + 2 tablespoons whole-wheat flour
Filling:
1/2 cup packed brown sugar
1-1/2 teaspoons ground cinnamon
1/3 cup chopped pecans
1/4 cup all-purpose flour
1/4 cup melted Earth Balance
Glaze:
1/2 cup confectioners' sugar
1-1/2 teaspoons water (approximately…add a little more or less to get the consistency you desire)
To make the pastry: Combine warmed milk and melted Earth Balance. Allow mixture to cool to room temperature. In a large bowl, dissolve yeast in the warm water with 1/2 tablespoon of the white sugar. Let stand until frothy, about 10 minutes.
When yeast mixture is bubbling, add the cooled milk mixture. Whisk in the egg. Stir in the remaining white sugar, and nutmeg. Stir both flours into the milk/egg mixture a little at a time. When the dough has pulled together, turn it out onto a lightly floured surface and knead until smooth and elastic, about 2 minutes.
Lightly oil a large bowl, place the dough in the bowl and turn to coat with oil. Cover with a damp cloth or plastic wrap and let rise in a warm place until doubled in volume, about 1 to 2 hours. When risen, punch down.
To make the filling: Combine the brown sugar, ground cinnamon, chopped pecans, and flour. Pour 1/4 cup melted Earth Balance over the cinnamon mixture and mix until crumbly.
Preheat oven to 375 degrees F (190 degrees C). Grease a cookie sheet or line with parchment paper.
Divide the dough into 8 equal pieces. Roll each piece into a rectangle (approximately 6 by 8 inches or so). Sprinkle 1/8th of the filling evenly over each piece of the dough. Roll up each piece tightly like a little jelly roll, beginning at the wide side. Bring the ends of each roll together to form 8 oval shaped rings. Place each ring on a prepared cookie sheet. If you wish, make cuts with scissors 1/3 of the way through the rings at 1 inch intervals. Let rise in a warm spot until doubled in size, about 45 minutes.
Bake in preheated oven for about 20 minutes, until golden. If you are partaking in the tradition of adding a baby or trinket, place it in the bottom of one of the cakes after it is baked. Whisk together the glaze ingredients. Frost the cakes with the glaze and purple, green, and yellow sprinkles if you wish.
I decorated with some cute Mardi Gras printables from MardiGrasOutlet.com. They are free, so help yourself! 🙂 I also found some pretty little edible beads in purple, yellow, and green. They looked like Mardi Gras beads to me, so they seemed perfect for the cake! We don't plan to eat them, but they were too cute for me to pass up for decoration. 🙂
I hope you enjoy your Fat Tuesday!
http://nooncafe.com/wp-content/uploads/2015/07/NoonCafe-Logo-with-full-shadow.21.png
0
0
Laura
http://nooncafe.com/wp-content/uploads/2015/07/NoonCafe-Logo-with-full-shadow.21.png
Laura
2014-03-04 14:49:03
2015-07-15 21:45:46
Mardi Gras ~ King Cake