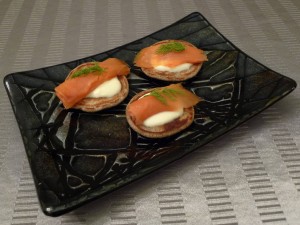 As the winter Olympics in Sochi, Russia are coming to a close, I wanted to try a Russian recipe to celebrate the occasion! I made blini with smoked salmon. 🙂
I used Ina Garten's recipe as the base, but I made it a little healthier. I substituted the butter with Earth Balance, and used much less of it than the original recipe called for. Rather, I used a good non-stick pan, so the butter was unnecessary to keep the pancakes from sticking. I also used nonfat milk and reduced fat sour cream rather than the full fat versions.
Blini with Smoked Salmon
Based on a recipe from Ina Garten
1/3 cup buckwheat flour
2/3 cup all-purpose flour
1/2 teaspoon baking powder
3/4 teaspoon kosher salt
3/4 cup plus 2 tablespoons nonfat milk
1 extra-large egg
2 tablespoons Earth Balance
1/2 pound smoked salmon, thinly sliced
1/4 cup reduced fat sour cream
Fresh dill sprig, for garnish
Combine both flours, baking powder, and salt in a bowl. In a separate bowl, whisk together the milk, egg, and 1 tablespoon of Earth Balance. Whisk the wet ingredients into the flour mixture. Heat 1 tablespoon of the Earth Balance in a medium non-stick sauté pan and drop the batter into the hot skillet, 1 tablespoon at a time. Cook over medium-low heat until bubbles form on the top side of the blini, about 2 minutes. Flip and cook for 1 more minute, or until brown. Repeat with the remaining batter. Set aside.
To serve, top the blini with a piece of smoked salmon. Add a dollop of sour cream and a sprig of dill.
Blini are often served with caviar on top rather than the smoked salmon. That could be something to try for the Oscars next week! 🙂
http://nooncafe.com/wp-content/uploads/2015/07/NoonCafe-Logo-with-full-shadow.21.png
0
0
Laura
http://nooncafe.com/wp-content/uploads/2015/07/NoonCafe-Logo-with-full-shadow.21.png
Laura
2014-02-22 14:33:00
2014-02-24 14:35:28
Winter Olympics ~ Smoked Salmon Blini