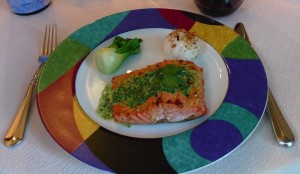 Rob and I had our big wedding anniversary dinner celebration on Saturday of Labor Day weekend, which is the day of the week we got married. Our actual anniversary date fell in the middle of the week this year, but we couldn't resist having a small, pared down celebration on the real date as well. We had lemongrass-crusted salmon with a watercress coconut sauce for dinner. Even though this salmon dish really was easy enough to make on a regular Tuesday, it was very delicious, and it felt like a dish fit for a special occasion. (Good thing, since I think this qualifies as a special occasion! 🙂 )
I was inspired once again by a recipe from Roy's Fish and Seafood: Recipes from the Pacific Rim. I followed his recipe for the salmon crust, but I completely changed the sauce to make it my own. The original recipe used a cup of beurre blanc, but I replaced it with coconut milk. (It was a good use for the leftover milk from the cheesecake!) I don't use a lot of butter in my cooking, and the coconut added an additional tropical element. It also mellowed the bitterness of the watercress nicely.
Lemongrass-Crusted Salmon with a Watercress Coconut Sauce
Based on a recipe from Roy's Fish and Seafood cookbook
Serves 2, with leftover sauce
Salmon and Lemongrass Crust:
2 salmon fillets, about 6 oz each
1 tablespoon minced lemongrass (white part only)
½ tablespoon minced garlic
½ tablespoon grated fresh ginger
½ tablespoon minced shallot
½ tablespoon shichimi
Watercress Coconut Sauce:
1 bunch watercress, stemmed (reserve 4 sprigs for garnish)
½ tablespoon ginger juice (fresh ginger squeezed through a garlic press)
½ cup coconut milk
Safflower, sunflower, or peanut oil for cooking
Salt and pepper to taste
Preheat oven to 350 F.
Combine lemongrass, garlic, ginger, shallot, and shichimi in a bowl, and stir to blend. Set aside.
Bring a saucepan of water to a bowl. Place the watercress into a strainer, and when the water is bowling, pour over the watercress to wilt. Warm coconut milk. Combine watercress, milk and ginger juice in the bowl of a food processor, and pulse until it is to your desired texture. Add salt and pepper to taste. Set aside.
Preheat a medium non-stick saucepan over medium high heat. Evenly coat one side of the salmon fillets with the crust mixture. Drizzle the fillets with a high heat cooking oil, such as safflower, sunflower, or peanut oil. Carefully transfer the salmon to the hot pan, crust side down. Sear until the crust is a little browned. Turn, and finish in the oven for about 10 minutes, or until baked to desired doneness.
To serve, plate the salmon crust side up. Spoon the sauce on the top or side of the salmon fillets. Garnish with reserved watercress leaves.
We paired our dinner with a bottle of 2000 Columbia Winery Peninsula red wine. We got married in 2000, and we had our wedding reception at Columbia Winery, so we bought a case of this wine several years ago.  We like to open a bottle on our anniversary every year. It is aging nicely, which I'll take as a good sign for us! 😉
Funny note: It began to absolutely pour down rain by the end of our dinner. Luckily, we decided to eat inside with the French doors open once again, so we could enjoy the thunder and showers instead of scrambling inside for cover. 😉 This bottom photo was taken in the middle of the downpour. It was actually kind of fun! It was definitely an anniversary to remember!
http://nooncafe.com/wp-content/uploads/2015/07/NoonCafe-Logo-with-full-shadow.21.png
0
0
Laura
http://nooncafe.com/wp-content/uploads/2015/07/NoonCafe-Logo-with-full-shadow.21.png
Laura
2014-09-03 22:22:31
2015-07-15 17:25:37
One More Small Anniversary Celebration ~ Lemongrass-Crusted Salmon with a Watercress Coconut Sauce and 2000 Columbia Winery Peninsula