I really enjoyed a memoir that I read last month entitled Delancey: A Man, a Woman, a Restaurant, a Marriage. A local restaurant owner and food blogger named Molly Wizenberg wrote the book. She and her husband own the pizza place, Delancey, the bar next door, Essex, and she also writes the blog, Orangette. The book is about their adventures in the restaurant business, and it includes a few recipes. I saved this particular recipe to make once it started to feel like autumn in Seattle. 🙂
I replaced the butter with half the amount of Earth Balance, but other than that, I followed the recipe pretty closely. It was a sweet way to kick off the fall season. 🙂
Apple Crisp
Based on a recipe from the book Delancey
Makes 8 servings
For the apples:
8 medium Granny Smith apples
3 to 4 tablespoons freshly squeezed lemon juice
4 to 6 tablespoons granulated sugar
For the topping:
1 ½ cups unbleached all-purpose flour
1 cup brown sugar
2 teaspoons ground cinnamon
¾ stick Earth Balance (85 g)
½ cup walnuts, coarsely chopped
For serving:
Vanilla ice cream or frozen custard
Preheat oven to 350 degrees.
Peel, core, and slice each apple into 8 to 10 wedges. In a bowl, toss the apples with 3 tablespoons lemon juice and 4 tablespoons sugar. Taste. They should be bright with lemon but lightly sweet. Adjust lemon and sugar if desired. Scrape the apples and any juices into a 2-quart soufflé dish, an 8 by 8-inch baking dish, or individual ramekins.
In a medium bowl, whisk the flour, brown sugar, and cinnamon. Add the Earth Balance, and use your fingers to rub and pinch it into the dry ingredients until there are no large lumps and the mixture is evenly crumbly. Add the walnuts and stir to combine.
Sprinkle the topping evenly over the apples. Bake for about 45 minutes, or until the top is lightly browned and the apples are bubbling. (The time does not differ if you decide to make individual servings in ramekins.) Serve warm with ice cream or frozen custard.
I hope you have a sweet and happy fall!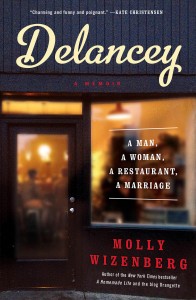 http://nooncafe.com/wp-content/uploads/2015/07/NoonCafe-Logo-with-full-shadow.21.png
0
0
Laura
http://nooncafe.com/wp-content/uploads/2015/07/NoonCafe-Logo-with-full-shadow.21.png
Laura
2014-10-04 18:35:13
2015-07-15 17:14:11
Welcome Fall ~ Delancey ~ Apple Crisp