Mardi Gras came on the heels of Valentine's Day this year, and since I was still in a British mood after our Downton Abbey themed Valentine dinner, I decided to celebrate this day as the British do…with pancakes! In England, what we call Mardi Gras or Fat Tuesday is known as Shrove Tuesday or Pancake Day. They celebrate by eating pancakes, and they even have pancake races! This video of the yearly Parliamentary pancake race from a couple of years ago made me giggle. It gets quite competitive, as the video shows! Ha! This year's race video featured a pancake-cam, which is also quite hilarious. 😉
In honor of this fun tradition, I made mini pancakes to celebrate Pancake Day. English-style pancakes are much thinner than American pancakes. They are almost like French crêpes. The cakes are traditionally served with a little caster/fine sugar and lemon rather than maple syrup.
I chose to make a basic recipe from BBC Good Food. I replaced the plain flour with whole-wheat pastry flour, and I used fully skim milk rather than partly-skimmed milk as the recipe called for. I also made my cakes mini for an afternoon tea snack, but otherwise followed the recipe fairly closely.
English Pancakes
Based on a recipe from BBC Good Food
100g whole-wheat pastry flour
2 eggs
300ml skim milk, plus more if needed
1 tbsp light oil such as sunflower or safflower, plus extra for frying
Pinch of salt
Lemon slices, for serving
Caster/fine sugar, for serving
Blending in the flour: Put the flour and a pinch of salt into a large mixing bowl and make a well in the center. Crack the eggs into the middle, and then pour in about 50ml milk and 1 tbsp oil. Start whisking from the center, gradually drawing the flour into the eggs, milk and oil. Once all the flour is incorporated, beat until you have a smooth, thick paste. Add a little more milk if it is too stiff to beat.
Finishing the batter: Add a good splash of milk and whisk to loosen the thick batter. While still whisking, pour in a steady stream of the remaining milk. Continue pouring and whisking until you have a batter that is the consistency of slightly thick single cream.
Getting the right thickness: Heat the pan over a moderate heat, and then wipe it with oiled paper towel. Ladle some batter into the pan, tilting the pan to move the mixture around for a thin and even layer. Leave to cook, undisturbed, for about 30 seconds, or until you see the edges getting a bit dry and golden. If the pan is the right temperature, the pancake should turn golden underneath after about 30 seconds and will be ready to turn.
Flipping pancakes: Hold the pan handle, ease a fish spatula under the pancake, then quickly lift and flip it over. Make sure the pancake is lying flat against the base of the pan with no folds, and then cook for another 30 seconds before turning out onto a warm plate. Continue with the rest of the batter, serving them as you cook or stack onto a plate.
The little flag was generated from the Keep Calm-O-Matic website. You can make your own personalized signs based on the classic British "Keep Calm and Carry On" poster. So fun!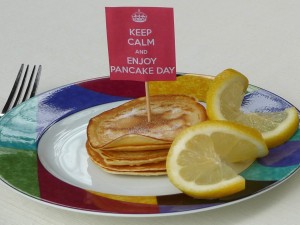 http://nooncafe.com/wp-content/uploads/2015/07/NoonCafe-Logo-with-full-shadow.21.png
0
0
Laura
http://nooncafe.com/wp-content/uploads/2015/07/NoonCafe-Logo-with-full-shadow.21.png
Laura
2015-02-17 21:55:09
2015-07-15 14:07:12
Shrove Tuesday (Pancake Day!) ~ Mini English Pancakes